Microsoft CEO search rumbles on
Microsoft's search for a CEO replacement for Steve Ballmer is continuing to gather steam with more names being linked with the job
Moves to get a replacement CEO at Microsoft are continuing with the prospect of a new name in the frame by the end of the year looking more likely.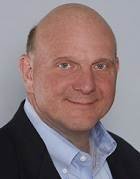 But according to reports there are disagreements over whether or not the software giant should be looking for someone with experience running a large multinational tech firm or if a visionary should be handed the chance to prove themselves.
Among those that are already being linked with the job are Stephen Elop and the Ford boss Alan Mulally but there are also some business leaders that seem keen not to be linked with the job with Oracle president Mark Hurd said to be uninterested and eBay head honcho John Donahoe also appearing to rule himself out.
Recent reports from Bloomberg suggested that the Microsoft board wanted the CEO search wrapped up by the end of this year with Ballmer then stepping back into the shadows, although the current CEO wants to continue to hold a board position.
Ballmer announced his intention to step down as CEO earlier this summer and has already held his last all-hands employee meeting where he exited the stage to the song 'I had the time of my life'.
Read more on Microsoft Windows Services