Data leakage to set conference agenda
As the great and the good meet in Olympia later this month to show off their wares and discuss the direction of the industry there are going to be a couple of key areas that dominate conversations.
As the great and the good meet in Olympia later this month to show off their wares and discuss the direction of the industry there are going to be a couple of key areas that dominate conversations.

Download this free guide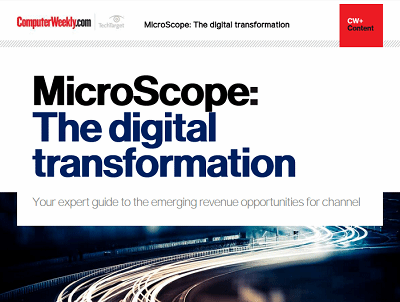 Emerging revenue opportunities for the channel with digital transformation
Digital transformation is a phrase that means many things to many people but for it to have any real relevance to the channel then it needs to mean a chance to make money. This guide will share some of the recent developments in the channel and the latest thoughts about the issue.
One of the uppermost issues leading into the event is data leakage with high-profile examples — many from the public sector from HMRC to the MoD — creating a market for two-factor authentication.
"The recent spate of high-profile data breaches has catapaulted encryption into the forefront of security discussions and will be a hot topic of debate at this year's Infosec," said Brian Spector, general manager of Workshare Content Protection market group.
"Discussions will focus on the all-in-one endpoint encryption solutions available to smaller enterprises that need to strike a balance between data security and cost effectiveness," he added.
For the channel the numerous civil service data leaks have been a boon to sales, suggesting that if those with a duty to act as guardians of our personal records can get it wrong, so can anyone.
"This is still a hot topic what with the ongoing HMRC crises, and with it still being such a big talking point. Resellers should focus on data protection and what organisations should be doing to avoid incidents such as these," said Andrew Fourie, UK country manager at Astaro.
He added that another hot topic will be the roll-out of the payment card industry (PCI) data security standards threatening to pile even greater pressure on retailers handling private customer data.
"Many companies do not understand the complex compliance laws and what solutions are available, so they risk breaking the law by doing nothing at all. Resellers should look at finding simplified solutions for end-users," added Fourie.
Another locus for concern revolves around social networking sites and the general Web 2.0 phenomenon undermining security.
"Web threats will continue to be a major issue," said Yuval Ben-Itzhak, CTO of Finjan, who added that the firm will be using the show to unveil tools to stem the threat.
From a business perspective, increasingly vendors are talking about access-rights management.
Last week Sun Microsystems announced a tie-up with Accenture to provide identity security to support SOA infrastructure. Oracle has also been flexing its muscles in that arena, appealing to the large enterprise players.
Although some people have argued that IT security is a must-have and therefore immune from a downturn, there are bound to be people comparing notes on the impact of the current uncertainty.
With the concerns of the credit crunch putting the squeeze on IT budgets today and for the coming two to three years at least, IT managers are pushed to try and get the most out of their limited budgets," said Ashish Patel, UK and Ireland country manager at Stonesoft Networks.
"IT departments are now moving into [virtualisation] from a cost-saving perspective with hardware consolidation and also as an opportunity to prove themselves to be 'green'.
"Themes that will be big at the show this year will encompass multi-functions such as traditional security and firewalls; new security, that is voice-over-internet protocol and session-initiation protocol analysis and VMWare security; and business continuity," Patel added.
Another fallout of the current market conditions could well be more mergers and acquisitions activity and Nick Lowe, Northern European managing director at Check Point, said there would be some resellers asking questions about the impact of consolidation, a continuing feature of the industry.
One final consideration for resellers attending the show in London is that with the presence of a lot of distributors there is an opportunity to talk about the sort of products that dealers are selling.
Ian Kilpatrick, chairman of Wick Hill, advised dealers to use the event as an opportunity to review their lines.
"Resellers will be seeing if they can improve their existing established security solutions, such as anti-virus, anti-spam, web filtering and so on. The show is a great opportunity for them to look at what their existing vendors are offering, check out what competitive vendors are offering and assess who has the best deals and products," he said.
Read more on Sales and Customer Management