iko - Fotolia
Nautilus Data Technologies CEO on building waterborne datacentres in the name of sustainability
James Connaughton, CEO of waterborne datacentre design champion Nautilus Data Technologies, sets out why the firm is convinced that water-cooled facilities are the answer to the tech industry's sustainability woes
Waterborne datacentre operator Nautilus Data Technologies has a simple, yet ambitious, mission objective: to build the world's most sustainable server farms.
Unlike many other datacentre operators, the firm's definition of sustainability is not just limited to the energy consumption habits of its facilities or the volume of carbon emissions they generate. Its take on sustainability extends to minimising the amount of water its sites use to keep their facilities cool and the amount of physical space they take up.
"The goal here is to reconceive the datacentre off a white piece of paper to meet the new requirements for high-performance computing [HPC], to be able to deliver the most energy-efficient outcome, and to be fully sustainable – not just on power, but where the consumption of water, chemicals, refrigerants are concerned too," says James Connaughton, CEO of Nautilus Data Technologies.
Nautilus was founded in 2013 and is staffed by a mix of datacentre industry veterans and individuals with backgrounds in working with large-scale, industrial systems that generate large amounts of heat. They are collectively intent on challenging the status quo about how server farms are run.
"We really are datacentre 2.0 in that we are going to move the datacentre industry from [relying on] forced chilled air systems to water cooling," says Connaughton. "What we've done is figure out how to engineer, architect and adapt into the datacentre environment really well proven methods of cooling that are used by all other sectors that generate heat."
The fact that these methods are widely used by other sectors, and have been for many years, should help to overcome the risk-averseness that datacentre industry types often have about tapping into technology providers that favour different approaches to dealing with common server farm issues.
"The chip designers and the server manufacturers want to create faster, hotter machines, and infrastructure people are still grossly limited in their ability to service that," says Connaughton.
"In five to 10 years, HPC is just going to be computing, if we can get it all water cooled"

James Connaughton, Nautilus Data Technologies
"The datacentre infrastructure people have to deliver five nines of reliability, and they want to stick to what they know and what works [to achieve that], but what they don't know is that every other sector, like the power generation sector, also has equally high standards of reliability, and they've been water cooling for a century."
The shipping, industrial manufacturing and petrochemical production industries have also relied on water-based cooling methods within their operations for years, and it is time the datacentre industry grew to appreciate that, he adds.
"All these sectors depend on very high-performing, super-resilient, ultra-reliable water cooling systems, but this very conservative tech sector is actually not at all aware that even more resilient, more durable, more easily maintainable systems are available to undergird their conservatism," says Connaughton.
"We are bringing the skillset of the other sectors into the datacentre space, and we are bringing the skillset of the datacentre providers into the industrial cooling space."
Liquid cooling in HPC environments
The way Connaughton tells it, the most energy-efficient way to run an HPC datacentre is to use liquid-based cooling methods, such as the one Nautilus is championing.
"Our theory is that in five to 10 years, high-performance computing is just going to be computing, if we can get it all water cooled," he says.
Nautilus's take on liquid-based cooling relies on a closed-loop system containing cold water, which is used to moderate the temperature of the server racks running inside its facilities.
"As servers become more powerful, they consume more energy and they run hotter, and there is a ceiling right now on how effective air chilling is and that ceiling is around 17-20kW per rack," says Connaughton. "But there are these new servers emerging, like the new Nvidia servers – they run at 30-35kW a rack and ultimately 60kW per rack, and air-conditioning is terrible in that setup, whereas water cooling can handle up to over 100kW [of compute power].
"This makes the computing itself dramatically more efficient, so we can enable dramatically more energy-efficient computing."
And this is important, because these types of HPC servers are going to be the ones responsible for hosting the artificial intelligence and machine learning workloads needed to inform decisions about sustainability across the globe, says Connaughton.
"By supporting high-performance computing along with software, that will inform all other industrial and governmental processes globally and drive them to even larger levels of efficiency and sustainability," he adds.
"This is a virtuous circle that we have not had access to before as a global society. And all of it depends on a naturally cold water molecule withdrawing heat from these very important and valuable machines."
Floating server farms
The first and only datacentre the firm currently has in operation is a 7MW facility that went live in April 2021, and is sited on a barge in the US, within a Homeland Security port in Stockton, California.
Nautilus's barge-based datacentres are "mega modular" and capable of being transported all around the world, which could also help hyperscale cloud and internet firms that are struggling to meet the demand for compute capacity in developing countries, says Connaughton.
"There is very limited datacentre development in all the emerging markets because it's tough to put up these big, complicated water- and energy-consuming datacentres in emerging markets. It's just hard to do and we are going to make it easy."
Water is channelled into the barge and travels around the hardware contained within it, via the closed-loop system, before being ejected back into the water surrounding the vessel.
It is a novel design, says Connaughton, with the water on which the datacentre is floating also providing a natural heat sink for the facility, which helps the Stockton site maintain a consistent power usage effectiveness (PUE) score of 1.15 throughout the year, whatever the weather.
To put this figure into context, Google – which, similarly, claims to run some of the greenest datacentres in the world – currently reports to have an average trailing 12-month PUE score of 1.10 across its entire server farm portfolio.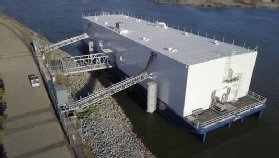 With respect to other operators' PUE scores, the amount of energy used to bring water into their datacentres for cooling purposes is not commonly factored into these calculations, says Connaughton.
"PUE is an incomplete measure because it does not account for the energy that is used to pull the water in from a freshwater source or the energy used to treat that freshwater to drinking water standard, or the energy used to deliver that water to the datacentre, as well as the energy used to take the wastewater [generated by this activity] and pump it back out into a water body," he says.
"So there's a big block of energy that's unaccounted for in PUE, but all the water consumed is unaccounted for. The dirty little secret of datacentres is almost all of them consume water to accomplish mechanical chilling, which is nuts."
Particularly as many of the countries where these energy- and water-hungry datacentres are sited are experiencing droughts and drinking water shortages, he points out.
"California is going through a horrific drought and in Chennai in India they're rationing drinking water to their people," he says. "It makes absolutely no sense, given what we now know, for any datacentre to ever take another sip of drinking water again."
Taking a global stance on datacentre sustainability
The barge-based datacentre Nautilus has built in Stockton is far from a one-off, as the company has also secured planning and investment for another in Limerick, Ireland, which – when live – will be the first server farm of its kind in Europe.
The project has secured support from the Irish Sovereign Wealth Fund, says Connaughton, because that organisation can see the potential for a barge-based server farm to help operators in Ireland's increasingly crowded datacentre market find the space they need to grow.
"The Irish Sovereign Wealth Fund invested in us because they want to transform the datacentre to that 2.0 model in the country, because they can see the struggles Ireland is now having with space and power. We're the answer to that," he adds.
Apart from providing Irish datacentre operators with a waterborne alternative to land-based facilities, there are a couple of other reasons why Nautilus has set its sights on building its presence in Ireland.
These include Connaughton's conviction that Ireland could be on course to become the next big global datacentre hub. He likens the west of Ireland to Ashburn, Virginia, which is often described as being the datacentre capital of the world.
While the company's barge-based datacentre design is an important point of competitive difference for Nautilus, it also has the expertise to build land-based server farms.
"Being on land is great and being right on the water is a little bit greater [in cooling terms], but it's not a big delta," says Connaughton.
"The dirty little secret of datacentres is almost all of them consume water to accomplish mechanical chilling, which is nuts"

James Connaughton, Nautilus Data Technologies
The company announced details of its second datacentre on 5 June 2021. It will be land-based and located in the US town of Millinocket, Maine, on the site of what was once one of the world's largest paper mills, and where much of the US's newsprint used to be created.
The site will have a projected capacity of 60MW of IT load once completed, and Connaughton hopes this will pave the way for further regeneration in that area.
"Today, almost all datacentres are built in commercial real estate locations and are actually competing with urban centres for space," he says. "That makes no sense because on the working side of every population centre in the world is an industrial zone and that is where the datacentre should go.
"There's a lot of available power on the working side of these cities, and it's where all the fibre runs before it hits these cities. So we are all about converting brownfields into greenfields, which makes us an ESG [environmental, social and governance] machine."
There are a few others reasons why Nautilus selected Millinocket as the site of its first land-based datacentre, and one is because of how well it complements the company's Irish growth plans.
"Ireland is one of the epicentres of digital because it's the one of the furthest points west in Europe before you hop across to North America," says Connaughton. "And this location in Maine is the other side of the Ireland story. Maine is to Europe what Ireland is to America, and our goal is to establish – on the west of Ireland and on the east of America – large computer exchange regions.
"That'll be to facilitate all the [data] exchange, right across the continent, and have it be within the sovereign control of the US, and have it be within the sovereign control of the EU."
Read more about datacentre cooling methods
The proximity of both locations to large bodies of water is another plus point, not just in the context of how the company regulates the temperature of its datacentres, but because it also supports Nautilus in achieving another of its goals – to make supercomputing resources more readily available to enterprises.
"In Ireland, the one thing that it has an abundance, beyond its very clever people, is an endless supply of naturally cold water," says Connaughton. "And in Maine the same is true, which means you can make supercomputing available to everyone in the world, rather than the provinces of national laboratories, or university centres like Cambridge or Oxford."
Connaughton claims the company's Stockton facility is the greenest datacentre in the world, but it will lose that title once the server farm in Maine is completed because water will be drawn into the facility by gravity, rather than being pumped.
This unique feature of the site is made possible by its location, with the Maine datacentre sited close to a hydropower plant which will be feeding the server farm with electricity.
"There's a reservoir for the hydropower plant, and there's a big lake [attached to that] and we're going to be below the lake," says Connaughton.
"So we'll take water – gravity-fed from the lake – through the datacentre and then the water will come out warm at the other end and, initially, we'll just put that back into the hydropower plant's discharge with no significant ecological change in temperature."
At least that is the plan for the time being, although Connaughton says Nautilus is in discussions with several parties that have expressed an interest in putting the slightly warmed water that will be dispelled from the datacentre to use.
"There's a company interested in setting up greenhouses in Maine that could use the warm water, and we are looking at district heating," he says. "We're really going to experiment in Maine on this idea of creating a 100% emission-free, ultra-efficient datacentre with warm water as a by-product."
Since the completion of its barge-based facility in Stockton, California, Nautilus now has verified proof that its approach to building datacentres is a goer, and with its other sites due to come online in due course, it is now courting clients to populate them.
"We are targeting both the hyperscale players and the large enterprises – especially those that want to future-proof their deployments for high-performance workloads – and those are the ones who are turning up to talk to us," says Connaughton.
At the same time, however, Nautilus is keen to make space for smaller, "digitally dependent" businesses that are operating locally to where its datacentres are located to ensure it is doing its bit to aid the redevelopment of the surrounding areas.
"The next two [Limerick and Maine] projects will really perfect our design and deployment, but after that, the key will be to partner with local developers that want to develop datacentre sites with a water-cooled approach because it gives them greater optionality and a wider range of land areas that they can develop on," says Connaughton.
Read more on Datacentre energy efficiency and green IT