nicholashan - Fotolia
Inside Taiwan: The engine room of the internet of things
Computer Weekly travelled to Taiwan to meet some of the tech companies that are quietly laying the foundations for the internet of things
Streaking across the Taiwanese hinterland on its superfast bullet-train service, presented with an apparently endless vista of light industrial units, crowded freeways and shabby apartment blocks, something becomes immediately obvious to the first-time visitor: Taiwan is taking capitalism to the extreme.
Thanks to the weight of history and the overtures of its powerful neighbour, this little-understood and hard-to-reach island remains diplomatically isolated and officially friendless. It is a humid, crowded and intense place, but for those who seek an understanding of the IT industry that goes beneath the surface, it is a place of pilgrimage.
Taiwan may not be where IT all began – Alan Turing was born in Maida Vale and Ada Lovelace is buried in Nottingham – but it is where a great deal of IT begins. The silicon chip made Taiwan rich, and today, its industrialists and businessmen are quietly laying the foundations of the next evolution of IT – the connected, digital, smart society and, of course, the internet of things (IoT).
Component giants
At the heart of the IoT are sensors, components and silicon, so given its history, it is hardly a surprise that Taiwan is taking the lead here.
British semiconductor supplier ARM recently opened the doors on a new central processing unit (CPU) design centre in the city of Hsinchu. It is the first CPU design centre in Asia, and it will focus on the design and delivery of its Cortex-M family of processors.
ARM believes Cortex-M will be instrumental to the IoT thanks to its small footprint and low power requirements, which it claims make it suitable for, among other things, smart street lighting, home energy monitoring, connected appliances and wearables.
Peter Hseih, general manager of ARM Taiwan, wants to create a "revolution for entry level devices" to bring the internet to everyone.
Having transformed the mobile device market through successfully licensing its CPU IP to smartphone builders that lack this sort of expertise, Hsieh says ARM hopes to replicate this model when it comes to the silicon needed to drive the IoT.
"We will bring intelligence and connectivity everywhere, not only smartphones and PCs, but in future devices in the home, factories and businesses. All will be connected with intelligence built into the devices," he says.
Advantech is another large local firm taking full advantage of the growth potential of the IoT. It has been providing IoT-like embedded automation and compute platforms since the 1980s, but now these platforms are going beyond their traditional industrial bases and hitting the mainstream, Advantech has evolved as well.
According to a recent Smart City whitepaper produced by the company, having spent some 30 years developing the underlying hardware that has made the IoT possible, Taiwan now finds itself in the right place, at the right time, to be able to carve out a niche all of its own.
Thanks to Advantech, Taiwan is already implementing smart city systems, not just as part of a pilot test, but in the field: The country recently introduced electronic traffic control on its motorway system, automating tolls across the country.
Although automated tolls are common worldwide, Advantech is taking the idea to its logical conclusion. Up to now, vehicles carrying electronic tags have still had to slow down to drive through a gate, but the Taiwanese are removing these toll plazas altogether and replacing them with overhead gantries.
IP cameras mounted on these gantries are able to detect and record approaching licence plates and tags and transmit the data back to a processing centre, where usage and appropriate tolls are calculated and charged back automatically.
To date, 319 of its contactless toll booth gantries have been set up across Taiwan, and are seeing an average of 14 million transactions a day. Advantech estimates that because cars no longer have to slow down, its systems are already saving Taiwanese motorists a substantial amount of time and 60 million litres of fuel per annum.
Connected cookers, connected cars, connected everything
However, it is not merely big hardware companies such as ARM and Advantech developing IoT systems in Taiwan: The companies that build the things the IoT will connect to are also sitting up and taking notice.
Sakura Group is one such company. Founded in the 1970s, the Taichung, central Taiwan-based firm is today one of the largest suppliers – if not the largest supplier – of kitchen appliances and equipment in the Far East.
A popular and much-criticised trope in the west is to talk about the IoT only in terms of connected appliances, so Sakura provides an interesting case study because connected appliances sit at the heart of its strategy.
Among the applications currently being explored by Sakura are connected water heaters, gas hobs and range hoods, which consumers will eventually be able to control over a wired or wireless connection.
Sakura's appliances will also have a certain degree of autonomy built in. For example, future generations of its gas hobs will be able to detect whether or not there is a pan on the trivet, and shut off the gas supply if one is not found. Meanwhile, its hoods will use smoke detectors to power up or down as appropriate, removing the need for manual control.
MobileTron, which occupies a large and curiously empty office block on the other side of Taichung, is a specialist in automotive electronics and components, producing engine parts and precision machine tools for mechanics.
It is now seeking to break into connected cars – its internal parlance refers to the internet of vehicles – with products such as high-definition cameras, telematics and gateways.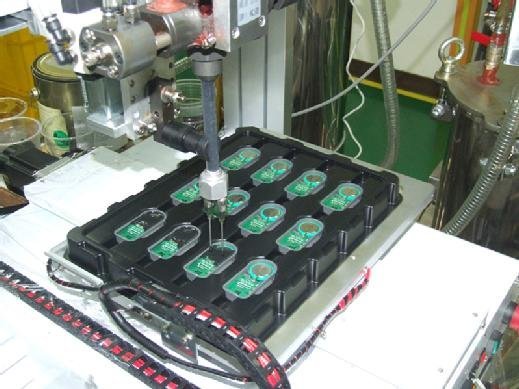 Mobiletron demonstrated its internet of vehicles system – designed as a tool for fleet management – over a live feed to one of their trucks driving around the city. Besides enabling direct communication with the driver, it can also monitor vehicle activity and safety in real-time through a network of in-vehicle sensors that place the vehicle at the centre of an overhead view of its immediate environment.
Hsinchu-based Holux is also moving into the IoT from a background in the automotive sector. However, its change of focus has come in response to the decimation of its previously successful GPS system business at the hands of smartphones and navigation apps.
Its solution to this problem is to use its GPS heritage to expand into healthcare and wearables, and it has now successfully brought to market a combined activity and health monitoring smartwatch product, the Impulse 8100.
Although a standard sports watch in many ways, the Impulse 8100, which has a 1.28in touchscreen and weighs approximately 56g, also incorporates a feature designed to detect fatigue in drivers – perhaps harking back to Holux's legacy GPS devices – to help it stand out in an increasingly crowded wearables marketplace, according to director of sales and marketing Eddy Huang.
"Early on we recognised the need for a unique selling point. Driving fatigue detection – based on heart-rate – provides an early warning for drivers as a key differentiator," says Huang.
However, Holux is also expanding its IoT ecosystem beyond wearables outside the home, with its recently developed IoLiving lines for smart homes and businesses.
Based on the idea that the most common variables measured by IoT devices are temperature and movement, IoLiving sensors can be deployed in service of a number of objectives, such as monitoring air quality and room temperature in the home, improving food safety standards in restaurant kitchens, or simply making sure children or elderly relatives are keeping active.
Each sensor stores its data locally and uploads it to the cloud whenever its paired device moves within range, effectively eliminating the need to install any wireless networking infrastructure. In this way, says Holux, it hopes to lower some of the barriers to entry to the IoT.
Innovative startups seek funding
Back in Taipei, at the Taiwanese government's Institute for Information Industry, a number of local startups shared some insight into life for developers in Taiwan, which differs from the UK's in one major aspect: Whereas in the UK startups have tended to concentrate on the code and the application, in Taiwan the focus is very much on the device itself.
Anecdotally, this is thought to have been caused by a shift in policy following the 2001 dotcom crash. Having seen what happened to the software industry, the Taiwanese government got cold feet and pushed people into hardware instead.
Serafim Technologies – which bills itself as sitting "at the intersection of hardware and software for wearable technology" – provides a good example of the sort of company the Taiwanese government has supported up to now.
Serafim has developed a product called Odin, a new type of mouse which uses laser technology to project a workspace onto the desk, and translates movement in that space into actions on a workstation. However, attracting funding for his project was not a smooth process, explains CEO GZ Chen.
"It is not easy to find money in Taiwan. We got out first funding round from Japanese investors," he says.
"The government does support us, but the money is not enough for hardware companies. We ended up spending it all on tooling, so you have to find some way to build a product to attract more money."
Jerry Chang, a former Foxconn business unit head and current CEO of Joyray Technology – developer of a smartwatch for children called Jumpy – says there are more investors active in Taiwan now, but most of them are looking for companies more advanced in their lifecycles.
"Talent is our biggest difficulty. Our young generation is very risk averse, so we have to pay more to attract them, which is a big burden to startups. Fundraising is getting better, but it is not as good as in mainland China," says Chang.
However, according to Chang, there are signs of movement, particularly when it comes to the IoT. "The biggest Taiwanese ICT companies are all original equipment manufacturers, they have momentum and energy. They are becoming a little more willing to help hardware-oriented companies, such as ourselves," he says.
Read more about the internet of things
Hsinchu-based fabless semiconductor supplier MediaTek is one local firm that has seen the way the wind is blowing when it comes to IoT startups. Earlier in 2015, it gave $300m for a new venture to back startups in China and Taiwan, Europe, Japan and the US.
"The IoT is a great opportunity as long as we open up and allow innovative companies to engage with us, get their hands on our hardware kit and get the support they need," says MediaTek Labs vice-president Marc Nadell.
"As long as we can be a part of that revolution, we are going to benefit because we have the product, the supply chain and the relationships."
MediaTek Labs is a free programme for IoT developers and supports them through the development of IoT devices, cloud services and mobile applications. Its online portal provides access to the MediaTek SDK, technical support and documentation, community forums and a systems catalogue.
Some of the ventures it has already backed include Skuromoto, a service developed at Yuan Ze University in Taoyuan, that helps moped-obsessed Taiwanese students easily track down and rent scooters, and Colombia-based BugGeek, which has developed Zazu, a pet tracker and activity monitor that effectively turns the family dog into a "thing".
Alchema, another locally based startup, might also prove popular with students. Its system was developed using MediaTek's LinkIt One development board, a $59 open source, high-performance board for prototyping IoT devices, based on MediaTek's Aster SoC, combined with Wi-Fi and GPS chipsets and pin-out features to Arduino boards – and it brews beer or wine for you.
The IoT home brew kit holds about a litre and comes complete with 100 different recipes for various styles of beer and wine using different ingredients. Its on-board sensors monitor aspects of the brewing process such as temperature, acidity and alcohol content throughout production, and feed the information back into a mobile app. Unfortunately, there is, as yet, no information on availability in the UK.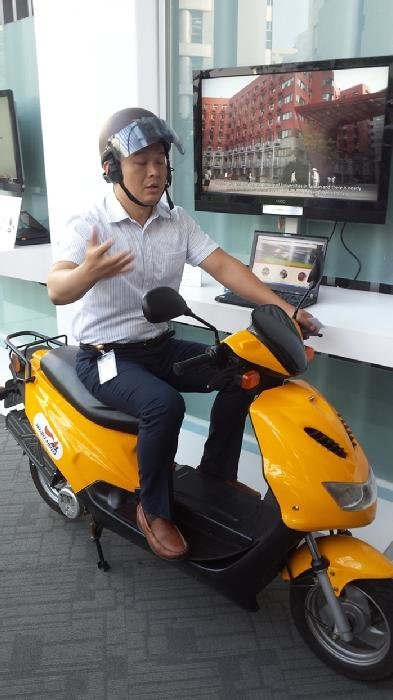 Read more on Internet of Things (IoT)