Julien Eichinger - stock.adobe.c
Fortunes of storage vary in big five led by Dell EMC and NetApp
The big five take 50% of the enterprise storage market, with Dell EMC and HPE dominating. But some struggle with successive quarters of shrinkage while others see storage shine
Who are the biggest players in the storage systems market? And what does storage mean to the companies that supply most of the hardware?
Continue Reading This Article
Enjoy this article as well as all of our content, including E-Guides, news, tips and more.
Four of the five biggest storage array makers publish financial results, so we can see what storage contributes to their earnings and whether it is declining or falling.
We can also place storage in the context of the supplier's business as a whole.
An interesting picture emerges when we do that.
Dell EMC, for example, is the biggest enterprise storage player of all, but currently runs a year-on-year loss of $461m.
IBM makes very healthy profits overall, but regularly posts declines in its storage revenues.
Meanwhile, HPE's storage revenues are just about flat.
Since EMC's marriage with Dell, NetApp is now the only pure-play storage supplier in the big five. The rest are general IT giants.
We'll have a look at those suppliers in more detail, but first, what about their market share?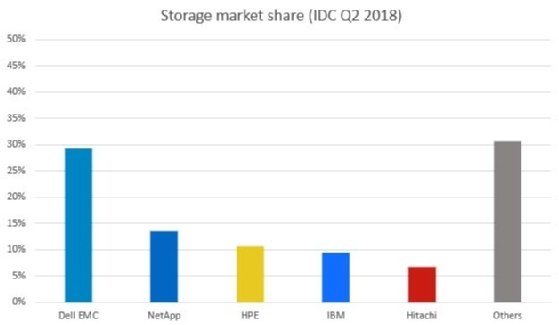 Big five market share
According to IDC's enterprise storage systems research, Dell is top dog with revenues of around $1.8bn in its (IDC's) second quarter and a market share of 29%.
NetApp comes in second with 13.5%, then HPE on 10.6%, IBM on 9.4% and Hitachi Vantara on 6.6%.
Hitachi Vantara is private and doesn't have to release financial results, but IDC's figures have it at revenue of $402m for the second quarter.
Dell EMC: Storage revenues on the up
Dell EMC's second-quarter results came out in August. It reported quarterly revenues of $22.94bn, up 18% year on year.
That said, the company ran a loss of $461m, although that was down from $739m the year before. A big chunk of that is accounted for by debt payments – $2.6bn in the quarter reported – that result from the merger of Dell and EMC.
Its notebook, PCs, workstations division revenue was $11.1bn, up 13% year on year.
So, what about storage? It reported $4.2bn in revenues, up 13% on the year.
That is an improvement on the last quarter of its last financial year, which saw storage revenues drop by 11% on the year before.
Meanwhile, servers and networking pulled in $5.1bn, a 34% increase, with the company pointing at IDC figures that have it as the leader in x86 servers for units shipped and revenue.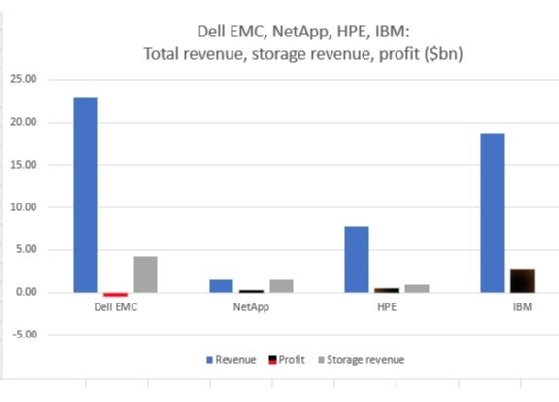 NetApp: Good profits on healthy revenues
NetApp is a bit of a bright star among the big storage players. It has all its eggs in the storage market basket, but it has seen good profits on increasing revenues.
NetApp reported its second-quarter results in August, with total revenues at $1.47bn, which were up 11% on the equivalent period the year before.
That made for pre-tax profits of $283mn, which was up 16.8% on the previous year.
The contribution of all-flash arrays to NetApp's revenues was 14%, up from 10% last year.
These numbers constituted the ninth quarter in succession that NetApp has made gains.
HPE: Storage flatlining
HPE's third-quarter reported at the end of August saw revenue of $7.8bn, up 4% from $7.5bn the year before.
Profits were up 173% at $451mn, from $173m in the equivalent period the year before. It has to be said, however, that the company took a hit last year from costs associated with the transition to becoming HPE.
Revenue from compute products were up 5% year on year from $3.2bn in 2017 to $3.5bn in these results.
As for storage, it appears to be flatlining, with revenue of $887m, up just 1% on last year's $877m.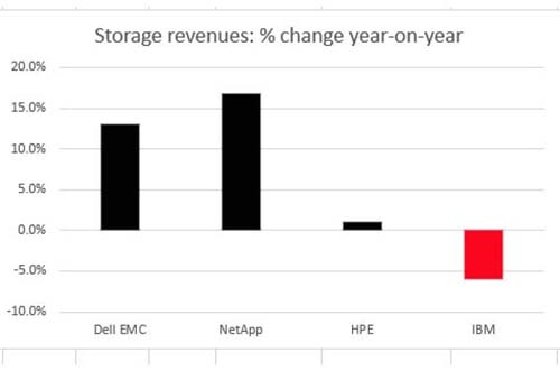 IBM: Storage revenues decline
IBM's third-quarter results were published in October. It showed total revenue of $18.7bn, down from $19.1bn, a fall of just under 0.5%.
Net profits were flat year on year at about $2.7bn, but that's still quite a staggering rate of profit.
What about storage? IBM only last year emerged from a long period (22 quarters) in which storage revenue had declined.
It doesn't give a breakdown for the division that includes storage – systems hardware – which, in its latest results, chalked up revenues of $1.3bn, a 4% increase on the equivalent period last year.
It does, however, give a relative figure in which IBM's results chart says storage saw a 6% year-on-year revenue decline.
Read more about storage suppliers
Array makers'

storage performance specs are not always what they seem

. Storage analysts explain how suppliers spin spec sheet figures.
Storage array makers' spec sheets can be difficult to translate and sometimes prove misleading –

the trick is to dig out the devil in the detail

.