Using green computing for improving energy efficiency guide
A guide to choosing green computing for your IT department. Learn how and why you should consider improving energy efficiency techniques within your business.
Introduction
Green computing is no longer just a white-wash expression, as government schemes like the Carbon Reduction Commitment (CRC) scheme, the Climate Change Agreement (CCA) or the European Union Emission Trading Scheme (EU ETS), are encouraging companies to revaluate their use of IT resources. Finding new ways of improving energy efficiency is no longer a boardroom discussion, but a reality for many UK businesses.
This guide has been designed to help you improve overall energy efficiency, within the IT department, and implement the right green technology for your business.
This green technology guide covers green computing, government legislation and energy efficiency.

1

Going Green

-
Green computing and green technology
Green computing and green technology refers to the environmentally responsible use of computers and any other technology related resources. Green computing includes the implementation of best practices, such as energy efficiency central processing units (CPUs), peripherals and servers. In addition green technology aims to reduce resource consumption and improve the disposal of electronic waste (e-waste).
2

About CRC

-
Government legislation
The Carbon Reduction Commitment (CRC) scheme is designed to reduce carbon emissions, in the UK, by 1.2 tonnes by 2020. Through the use of green technologies the mandatory UK standard aims at improving energy efficiency through cutting UK carbon emissions 80% by 2050. The CRC covers all forms of energy – electricity, gas, fuel and oil – with the exception of transportation fuels.
News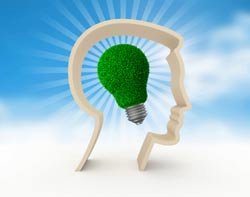 New regulations around carbon reduction will force companies to hire in new green IT skills, according to the BCS. Continue Reading
Tutorial
Introduced in April this year, the Carbon Reduction Commitment (CRC) Energy Efficiency Scheme has caused confusion amongst IT professionals. For those that remain confused, get the latest CRC news, tips, and expert responses in this U.K. guide. Continue Reading
Feature
Discover these practical steps on how to make the most of the CRC Energy Efficiency Scheme, according to a data centre management consultancy. Continue Reading
3

Becoming more efficient

-
Improving energy efficiency
In Europe we have a voluntary initiative aimed at reducing the environmental impact of data centres through the use of more green technology. The EU Code of Conduct on Data Centres' Energy Efficiency focuses on two areas for improving energy efficiency; IT load (The amount of IT capacity available for the power that's consumed) and the facilities load (equipment/systems that support the load, e.g. PDUs, UPSs) and cooling systems.