UKtech50 2013 - the most influential people in UK IT
Computer Weekly has announced the fourth annual UKtech50, our definitive list of the movers and shakers in UK IT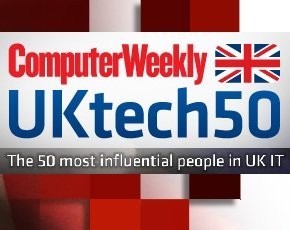 This Article Covers
RELATED TOPICS
Computer Weekly has announced the fourth annual UKtech50, our definitive list of the movers and shakers in UK IT - the CIOs, industry executives, public servants and business leaders driving the role of technology in the UK economy.

Download this free guide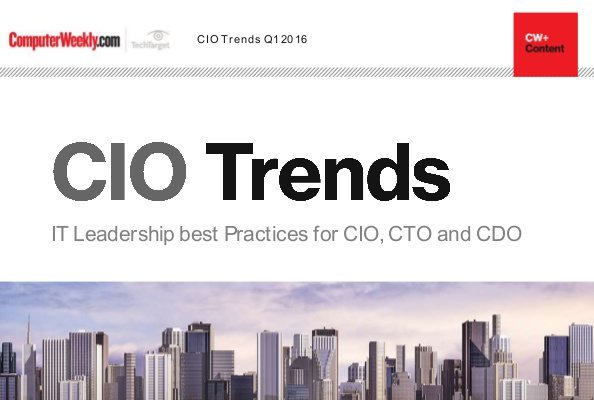 Your exclusive guide to CIO trends
A collection of our most popular articles for IT leaders from the first few months of 2016, including: - Corporate giants recruit digitally-minded outsiders to drive transformation - Analytics platforms to drive strategy in 2016 - Next generation: The changing role of IT leaders.
By submitting your email address, you agree to receive emails regarding relevant topic offers from TechTarget and its partners. You can withdraw your consent at any time. Contact TechTarget at 275 Grove Street, Newton, MA.
You also agree that your personal information may be transferred and processed in the United States, and that you have read and agree to the Terms of Use and the Privacy Policy.

Our aim was to identify the 50 most influential leaders in UK IT.
An expert judging panel representing every aspect of the IT profession helped decide the results, along with a reader vote, to determine who holds the most influence over the future of the UK IT sector in the next 12 months – and hence the future of IT professionals across the country.
Here is the list of the 50 most influential people in UK IT for the next 12 months:
1, Liam Maxwell, chief technology officer, HM Government
Liam Maxwell is leading the reform of how technology is purchased, implemented and managed within central government. As such, he has direct influence over much of the billions of pounds of taxpayers' money spent on Whitehall IT. He is promoting greater use of open standards, open source and cloud computing, using smaller IT contracts and more SME suppliers – attempting to break the stranglehold of the oligopoly of large companies that have dominated government IT. His influence therefore extends beyond the public sector, as his reforms shake up the IT supply industry, opening up new opportunities for smaller providers and changes in approach from the technology giants.
2, Eben Upton, Founder, Raspberry Pi Foundation
The idea behind a tiny and cheap computer for children – the Raspberry Pi, first came in 2006, when Eben Upton, Rob Mullins, Jack Lang and Alan Mycroft, based at the University of Cambridge's Computer Laboratory, became concerned about the continuing decline in the numbers and skills of the A-level students applying to read computer science. Since then, Upton has become the public face and spokesman for the phenomenally successful Raspberry Pi device, which aims to change IT education from a young age and get more kids coding. More than 1.75 million devices have been sold to date.
3, Joanna Shields, CEO, Tech City Investment Organisation
Joanna Shields is an American-British executive, serving as CEO and chair of Tech City Investment Organisation and as the UK government's business ambassador for digital industries. As such, she leads the promotion of London's startup scene and has become one of the public faces of the growing startup movement in the capital. Earlier this year, she was voted the most influential woman in UK IT by Computer Weekly.
4, Iain Lobban, Director, GCHQ
Iain Lobban is the director of intelligence gathering facility GCHQ, one of the three UK intelligence agencies, working with MI5 and MI6 to protect the UK's national security interests. His role has been in the public eye more than ever since the revelations about GCHQ's role in the US National Security Agency's internet surveillance programmes. GCHQ is also taking a more proactive and collaborative role in helping companies and public sector bodies tackle the growing cyber threats.
The UKtech50 2013
5, Phil Smith, Cisco UK CEO, chairman of Technology Strategy Board
Phil Smith is chairman of the Technology Strategy Board, the government-backed innovation agency charged with dispersing millions of pounds of public sector funds to boost science and technology. As Cisco's UK chief, he also leads the networking giant's investment supporting London's Tech City and other tech startups through Cisco's British Innovation Gateway programme.
6, Mike Bracken, Executive director, Government Digital Service
Mike Bracken is responsible for improving the government's digital delivery of public services in a cross-Whitehall role that covers all the government's online presence. His team launched Gov.UK, the single government website, and are progressing with a digital strategy that will see major transactional services brought online in the coming months. Bracken is the figurehead for a cultural change in how public services are delivered in a digital world.
7, Steve Millward, CIO, BAE Systems
As CIO of Britain's biggest defence manufacturer, Millward is at the forefront of changes in an industry that is increasingly driven by technology and innovation. He has previously run BAE's global business development and UK defence businesses. He represents BAE on the industry-government Defence Suppliers Forum, chaired by defence secretary Philip Hammond.
8, Gavin Patterson, CEO, BT
Gavin Patterson was appointed CEO of British telecoms giant BT in September 2013, having led BT's retail arm since 2008. He oversees BT's often-controversial roll-out of superfast broadband, and the firm's billion-pound investment to become a major player in sports broadcasting. Patterson has worked for BT for nine years, having previously been at Telewest (now Virgin Media).
9, Mike McNamara, CIO, Tesco
Technology is one of the two major strategic investment priorities at Tesco, alongside stores, and CIO Mike McNamara oversees a £150m plan to grow the retailer's online channels. Tesco is seen as a leader in multichannel retailing and has introduced numerous e-commerce and mobile initiatives, as well as launching an own-brand tablet, the Hudl, in 2013.
10, Ralph Rivera, Director of Future Media, BBC
Ralph Rivera is responsible for delivery of all the BBC's digital media products on the web, mobile devices and internet-connected TV platforms. His remit also includes overseeing the development of the BBC's digital products – such as the iPlayer – and enabling ways in which these products can be experienced on desktops, mobiles, tablets and connected TVs. Rivera is also responsible for shaping and leading the BBC's R&D activities and ensuring that the broadcaster is up to speed with developments in technologies such as 3D and HD.
11, Nigel Shadbolt, Chairman, Open Data Institute
Professor Sir Nigel Shadbolt is a Professor of Artificial Intelligence at the University of Southampton. He is chairman and co-founder, with Sir Tim Berners-Lee of the Open Data Institute (ODI). Launched in December 2012, the ODI focuses on unlocking supply and stimulating demand for open data. Shadbolt is also an advisor to the UK government on how to transform public access to government information, including the Data.gov.uk site. He sits on the Public Sector Transparency Board responsible for setting open data strategy across the public sector.
12, Mark Dearnley, Chief digital and information officer, HM Revenue & Customs
HM Revenue & Customs (HMRC) appointed Mark Dearnley, formerly the CIO of Vodafone, as the organisation's new chief digital and information officer in October 2013. He took over responsibility for one of the biggest IT estates in the UK - a £500m-a-year IT operation that serves 45 million individuals, 4.8 million businesses and 65,000 HMRC employees. He is responsible for implementing HMRC's £200m digital strategy.
13, Martha Lane Fox, Chair, Go On UK; former UK government digital champion
Martha Lane Fox is the founder and chair of Go On UK, which aims to bring digital skills to 16 million UK citizens who lack basic online skills or the confidence to use the internet. Just last month she stepped down as the UK's digital champion, a role she held since 2010. She is also chair of the Government Digital Service's advisory board and sits on the Cabinet Office Efficiency and Reform board. Lane Fox co-founded Lastminute.com in 1998 and sold the business to Sabre Holdings in 2005.
14, Victor Chavez, CEO, Thales UK; chair of Information Economy Council; President of TechUK
Victor Chavez was appointed CEO of defence technology provider Thales UK in January 2011. He makes it onto the UKtech50 list in his roles as president of technology trade association TechUK, and chair of the joint industry-government Information Economy Council that looks to develop the role and importance of the tech sector in the UK's economic and political priorities.
15, Catherine Doran, CIO, Royal Mail Group
Catherine Doran has led a major IT transformation programme at Royal Mail ahead of its controversial privatisation earlier this year, as well as splitting off the Post Office as part of the reorganisation of the UK postal service. She is responsible for devising and delivering the IT strategy to transform the technology estate as Royal Mail seeks to compete as a private company. Previously, she led a company-wide transformation programme at Network Rail.
16, Willem Eelman, CIO, Unilever
Willem Eelman became global CIO at consumer goods giant Unilever in April 2010, with an innovation development budget of some €300m. He has led a major global IT transformation, that includes one of the largest SAP implementations in the world. Unilever is embracing social media and the web to promote its household-name brands.
17, Tim Kelsey, National Director, Patients and Information, NHS England
Tim Kelsey is the senior IT leader in NHS England, responsible for overseeing IT strategy and making greater use of data for better health outcomes. His plans aim to transform the way patients access and use information about their health. As such, he is responsible for delivering on commitments to make patient records available online by 2015, and will be central to overhauling the role of IT across the health service.
18, Andy Nelson, CIO, Department for Work & Pensions
Andy Nelson was appointed CIO at the Department for Work and Pensions (DWP) on February 2013, having previously been government CIO – the last person to hold that role before it was scrapped. He has also previously been CIO at the Ministry for Justice. At DWP, he is ultimately responsible for the IT that delivers benefits and supporting the reforms taking place in welfare.
19, Tim Berners-Lee, World Wide Web inventor; director of Open Data Institute
Undoubtedly the most famous UK computer scientist, Berners-Lee boosted his profile with an appearance in the opening ceremony for the London 2012 Olympics, to widespread geek joy. As well as his evangelising of the web, he advises the government on open data as a director of the Open Data Institute. He has become an increasingly outspoken critic of government internet surveillance policies.
Top 5 current IT leaders in UKtech50 2013
Liam Maxwell, chief technology officer, HM Government (1st)
Steve Millward, CIO, BAE Systems (7th)
Mike McNamara, CIO, Tesco (9th)
Mark Dearnley, Chief digital and information officer, HM Revenue & Customs (12th)
Catherine Doran, CIO, Royal Mail Group (15th)
Twenty-three of the UKtech50 are CIOs, CTOs or other IT leaders
20, Denise McDonagh, CTO, Home Office
Denise McDonagh took up the position of Home Office CTO in June 2013, having previously been programme director for the government's cloud computing scheme, G-Cloud. McDonagh represents a new breed of leaders, enabling innovation and focusing on building high-performing teams of predominantly civil servant IT professionals.
21, Francis Maude, Cabinet Office Minister
As minister for the Cabinet Office, Maude has significant influence over the direction of the central government IT juggernaut. He has already delivered billions of pounds worth of cuts in government IT, and more are expected. He has focused on cutting consultancy fees, renegotiating contracts with big IT suppliers and reviewing hundreds of IT projects to see if they are worthy of continued funding. His political support is vital to plans for overhauling government IT.
22, Dana Deasy, outgoing Group CIO, BP; next CIO, JP Morgan Chase
Appointed as BP's first global CIO in 2007, Dana Deasy was responsible for IT at one of the UK's most important companies. He oversaw changes to IT strategy and supplier relationships that saved $800m from the firm's $3bn IT budget. In December 2013, he leaves BP to become global CIO for investment bank JP Morgan Chase.
23, Elizabeth Varley, Co-founder & CEO, TechHub
TechHub is at the heart of the London Tech City movement to attract startups to East London and boost investment and innovation in UK IT, with Varley as its CEO. She has set up new TechHub operations in Bangalore, Bucharest, Berlin and Riga, as well as other UK sites in Manchester and Swansea.
24, Matt Brittin, CEO, Google UK
Matt Brittin leads an operation that is Google's second largest after the US and the most advanced in terms of e-commerce and online advertising spend. Under Brittin's watch, Google is actively supporting UK start-ups through initiatives such as Tech City in East London – but he has also attracted controversy as he attempted to defend the low levels of corporation tax payments made by Google in the UK.
Top 5 women in IT in UKtech50 2013
Joanna Shields, CEO, Tech City Investment Organisation (3rd)
Martha Lane Fox, Chair, Go On UK; former UK government digital champion (13th)
Catherine Doran, CIO, Royal Mail Group (15th)
Denise McDonagh, CTO, Home Office (20th)
Elizabeth Varley, Co-founder & CEO, TechHub (23rd)
Nine of the UKtech50 are women (18%)
25, Dame Wendy Hall, Professor of Computer Science at University of Southampton
Wendy Hall is one of the most respected computer science academics in the UK. She is founding director, along with Sir Tim Berners-Lee, of the Web Science Research Initiative, which was launched in 2006 as long-term research collaboration between the University of Southampton and MIT.
26, Mike Lynch, Entrepreneur, angel investor, Autonomy founder
Mike Lynch won the 2011 UKtech50 award as the most influential person in UK IT following the £7bn sale of the company he founded, Autonomy, to HP. To the surprise of many, he was sacked from HP in 2012, amid controversial allegations about the company's accounting policies, which are stil unresolved. Nonetheless, he remains influential in the UK IT scene, and has brought together investors to create a fund to support UK tech startups.
27, Paul Coby, IT director, John Lewis
Paul Coby spent nearly a decade as CIO at British Airways, before leaving the airline in 2011. Soon after, he became IT director at department store chain John Lewis, tasked with improving the retailer's multichannel customer shopping experience. During his tenure, John Lewis online sales have topped £1bn per year for the first time.
28, Jonathan Ive, Senior vice president of industrial design, Apple
Sir Jonathan Ive is more responsible than most for the consumer technology revolution. Since introducing the iMac in 1998, Ive led a design team widely regarded as one of the best in the world to create ground-breaking Apple products including the iPod, iPhone and iPad. After the departure of other senior Apple executives he took on wider responsibilities including the software user interface for Apple's products.
29, JP Rangaswami, Chief scientist, Salesforce.com
JP Rangaswami is one of the UK's best known technologists, an evangelist and innovator who was among the first to see the potential of social media in the enterprise. At Salesforce.com, he promotes the development of social business worldwide, in a far-reaching role that involves speaking at major conferences and advising companies on the implications of social networks.
Top 5 in public sector
Liam Maxwell, chief technology officer, HM Government (1st)
Iain Lobban, Director, GCHQ (4th)
Mike Bracken, Executive director, Government Digital Service (6th)
Ralph Rivera, Director of Future Media, BBC (10th)
Mark Dearnley, Chief digital and information officer, HM Revenue & Customs (12th)
Thirteen of the UKtech50 work in the public sector (26%)
30, Simon Meredith, CIO, IBM UK
Simon Meredith is the CIO for IBM in the UK & Ireland. In this role, as part of a global team, he has responsibility for leading corporate technology operations in the region, closely aligned with strategic business initiatives to enable innovation and growth for IBM.
31, Steve Chambers, CIO, Visa Europe
Steve Chambers is responsible for Visa Europe's regional datacentres and business operations, enterprise architecture, technology and systems build, and all change management. He is at the heart of Visa's drive into contactless and electronic payments.
32, Bill Crothers, Chief procurement officer, HM Government
Crothers became government chief procurement officer in July 2012. He oversees the government's strategic supplier programme, which will manage the commercial relationships of government's top 40 suppliers. He has a reputation among IT suppliers as a fierce negotiator.
33, David Oldfield, Group CIO, Lloyds Banking Group
David Oldfield took over the CIO role at Lloyds Banking Group in November 2013 to replace Darryl West, who moved to Barclays. Previously managing director of SME and mid-markets banking, Oldfield stepped up to join the group's operations board as group CIO and deputy director of group operations. He joined Lloyds Bank in 1984 on a graduate entry scheme and has held a number of leadership roles in the company
34, Bob Harris, CTO, Channel 4
As chief technology officer at broadcaster Channel 4, Bob Harris is widely recognised as a pioneer in big data and an advocate for corporate use of public cloud and open source. His challenge is to harness the data generated by people viewing television online to help develop new services that could differentiate the channel from its competition.
Top 5 from IT industry in UKtech50
Eben Upton, Founder, Raspberry Pi Foundation (2nd)
Phil Smith, Cisco UK CEO, chairman of Technology Strategy Board (5th)
Gavin Patterson, CEO, BT (8th)
Victor Chavez, CEO, Thales UK; chair of Information Economy Council; President of TechUK (14th)
Matt Brittin, CEO, Google UK (24th)
Eleven of the UKtech50 come from the IT industry (22%)
35, Darrell Stein, Director of IT & logistics, Marks & Spencer
In 2006, Darrell Stein became CIO at Marks & Spencer. By the second year of his tenure, he had reduced incremental IT spend by 60%. He is leading M&S's development of its new retail website. He also has a seat on the operating board and responsibility for logistics.
36, Chi Onwurah, Shadow cyber security minister, Labour MP
Chi Onwurah was elected at the 2010 general election as MP for Newcastle upon Tyne Central. The former head of telecoms technology at Ofcom, the UK telecoms regulator, she became the shadow minister for Business, Innovation and Skills (innovation, science and digital infrastructure) in 2010, and is a board member of the Parliamentary Office of Science and Technology.
37, David Matthewman, CIO, Open University
Under David Matthewman's tenure as CIO, the Open University has been a pioneer of open learning and online education, with many of its courses now available online. He joined in 2010, and after conducting a thorough review of how the university buys IT, he has led a move towards cloud tools and a a leaner set-up for applications and infrastructure.
38, Lesley Cowley, CEO, Nominet
Under Lesley Cowley's leadership, Nominet has become a trusted guardian of a vital part of the UK internet economy, providing services that are relied on by millions of businesses and consumers. Cowley serves on the Nominations Committee and the Development Working Group, she is chair of Icann's Country Code Names Supporting Organisation, and is a fellow of a number of respected bodies.
39, David Smoley , CIO, AstraZeneca
David Smoley became CIO of pharmaceutical giant AstraZeneca in April 2013, succeeding Jon Kirby. Oldfield manages a $1bn IT budget with operations in over 100 countries in a firm that is seen as one of the leading users of IT in its sector.
Judging the UKtech50
The UKtech50 list was decided by a judging panel representing every area of the UK IT profession – along with a reader vote on who they thought should top the list.
The panel was chosen to represent different perspectives within IT – so each individual acted as both an impartial and expert judge, as well as an advocate for their area of interest.
The judges were:
Carrie Hartnell, Associate Director, Industry Strategy, TechUK
Adam Thilthorpe, Director for Professionalism, BCS
Marc Dowd, principal of the CIO Group, Forrester Research
John Goldader, chairman, The Corporate IT Forum
Our judging panel selected the top 50 based on the following criteria:
Influence - What authority or ability does the person have – either through their personal position or the role they hold – to personally influence the development of UK IT, or to influence others in positions of authority?
Achievements - What has the person achieved in the past 12 months to help the development of the UK IT?
Profile - Is the person recognised as a role model for aspiring leaders? How widely are they acknowledged by their peers as an authority and influence on UK IT?
Leadership - Does the person demonstrate the skills and experience necessary to be seen as a leader in the development of IT in the UK? Do they have a leadership role and does that help them to develop the role of IT in the UK?
Potential - How likely is it that the person will have a significant impact on UK IT in the next 12 months? Will their authority and responsibility grow?
40, Darryl West, Group CIO, Barclays
Darryl West left his role as CIO of Lloyds Banking Group to take over a similar role at Barclays in November. Barclays is investing heavily in technology innovation, in particular in mobile applications such as its successful PingIt app for personal money transfers.
41, Susan Cooklin, CIO, Network Rail
Susan Cooklin is the CIO at Network Rail where she leads activities that underpin a large and complex technology portfolio with a budget approaching £500m over the next five years. In the past year, she has taken on the added responsibility for finance and HR shared services, which saw Cooklin's team expand from 600 to 1,000 people.
42, John Douglas, CTO, Burberry
As CTO of one of the UK's most influential fashion brands, John Douglas has led the drive to make the firm a leading social enterprise, using social networking technology both for customer engagement and to improve internal collaboration across the company.
43, Glenn Morgan, Head of service transformation, British Airways
Glenn Morgan is responsible for using consumer technology to improve BA's customer engagement, and has led initiatives in mobile and online applications that are leading the airline industry. His role involves defining technology strategy and driving innovation and transformational change across British Airways.
44, Julian David, Director General, TechUK (formerly Intellect)
Julian David was appointed as the director general of technology trade body Intellect in March 2012 and led its relaunch as TechUK in November 2013. He has introduced a new strategy for TechUK that aims to establish the organisation as the leading representative of the IT sector to government and a major influence over the role of technology in the UK economy.
45, Joe Baguley, EMEA CTO, VMware
As one of the leading UK influencers at virtualisation company VMware, Baguley helps drive the strategy of a supplier that has transformed datacentres and helps customers moving to the cloud. He joined VMware in June 2011after 10 years at systems management company Quest Software
46, David Willetts, Minister for universities & science
David Willetts is a key player in the government's plans for improving science and technology education and boosting IT apprenticeships. He also co-chairs the government-industry Information Economy Council alongside TechUK president Victor Chavez.
47, Angus McCallum, Global CIO, BG Group
Angus McCallum leads the IT agenda at global natural gas exploration and production company BG Group, supporting more than 6,000 staff from 70 nationalities.
48, Stephen Kelly, Chief operating officer, Cabinet Office
As COO for the Cabinet Office, Stephen Kelly is a key part of the chain of command from minister Francis Maude to Government Digital Service chief Mike Bracken and CTO Liam Maxwell. Formerly CEO at UK software provider Micro Focus, he started his current role in late 2012.
49, Phil Pavitt, Global director of IT transformation, Aviva
Formerly CIO and director general of change at HM Revenue & Customs, Phil Pavitt moved to insurance giant Aviva at the start of 2013, with a remit to overhaul the use of IT on a global basis. His challenge is to use technology to better engage today's tech-savvy consumer and to overhaul Aviva's approach to IT.
50, David Clarke, CEO, BCS the Chartered Institute for IT
As CEO of the Chartered Institute for IT, David Clarke represents the UK IT community to government and across the IT industry. In his time at BCS he has led an overhaul of the institute, launching a new commercially-focused operation for IT certification earlier this year.
Read more on CW500 and IT leadership skills