Oracle's fiscal fourth-quarter earnings climbed 36% to $3.2bn and total revenues were up 13% to $10.8bn. But a decline in hardware sales and a forecast of only 10% to 20% growth in licence sales sent Oracle shares down by as much as 7.5% in late trading.
The company reported hardware sales declined 6% to $1.16bn, despite a forecast in March of an increase of up to 12%, but analysts say hardware gross margin rose to 56% in the quarter, up from 46% a year ago, indicating Oracle is making progress selling higher-margin machines.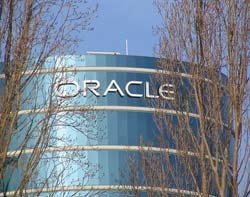 Safra Catz, chief financial officer at Oracle, said hardware sales may rebound in the current quarter, which ends in August. However, sales of hardware products may range from a 5% increase to a 5% decrease, she said.
Profit excluding certain costs was 75 cents a share in the quarter that ended May 31, exceeding the 71-cent average estimate of analysts, and sales climbed 13% to $10.8bn, meeting analysts' predictions, according to Bloomberg.
Despite the conservative forecast, licence sales gained 19% in the quarter to $3.74bn. "This strong organic growth combined with continuously improving operational efficiencies enabled us to deliver a 48% operating margin in the quarter," said Safra Catz.
Mark Hurd, president at Oracle, attributed the record software sales in part to the company's Exadata and Exalogic hardware systems. He said more than 1,000 Exadata machines were installed worldwide in 2011, which Oracle plans to triple in the new fiscal year.
But it was even more important to note that Oracle is now able to attach sales of software and service agreements to every hardware deal, which will generate on-going revenue, said Hurd.
Larry Ellison, chief executive at Oracle, said in fiscal year 2011, Oracle's database business experienced its fastest growth in a decade.
"Over the past few years we added features to the Oracle database for both cloud computing and in-memory databases that led to increased database sales this past year. Lately we've been focused on the big business opportunity presented by Big Data," Larry Ellison said.
At Oracle's OpenWorld conference, which begins on 2 October in San Francisco, the company plans to announce a computer system for analysing data in a computer's memory instead of on a disc, similar to SAP's HANA appliance.
Oracle also plans what it calls a "big-data accelerator," a product that will use open-source Hadoop software to help companies handle large amounts of data from various sources.
Image: Peter Kaminsky
Email Alerts
Register now to receive ComputerWeekly.com IT-related news, guides and more, delivered to your inbox.
By submitting your personal information, you agree to receive emails regarding relevant products and special offers from TechTarget and its partners. You also agree that your personal information may be transferred and processed in the United States, and that you have read and agree to the
Terms of Use
and the
Privacy Policy
.