Unified communications new priority for HP
HP has launched unified communications (UC) services to help companies find and design a UC deployment that is right for their business.
Unified communications (UC) is not one size fits all. Different companies have different needs.
And as the UC space continues to flourish, the choice of solutions to deploy gets more and more confusing. Today, HP announced a services portfolio to ease companies into UC, helping them unify voice, fax, email, voicemail, conferencing, collaboration, wireless and mobile technologies. According to Hewlett-Packard Services' vice president of consulting and integration Robb Rasmussen, the goal is to step back from the buzzwords and hype and find company solutions that make sense from both a business and communications perspective. The focus, he said, is to help enterprises improve the way groups and employees work together, regardless of where they are or which devices they use.

Download this free guide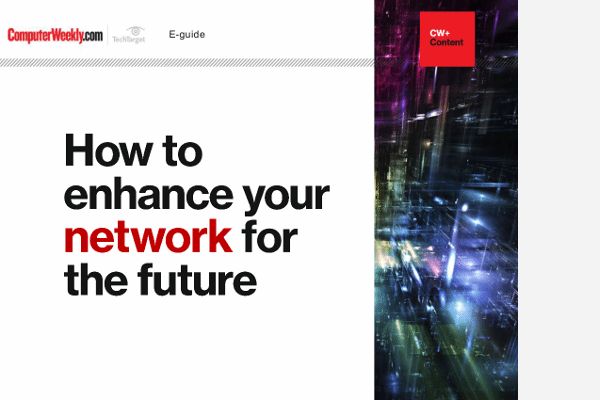 How to enhance your network for the future
Latest on networking developments and directions: NFV, self-optimising networks and IoT enabled smart cities
By submitting your email address, you agree to receive emails regarding relevant topic offers from TechTarget and its partners. You can withdraw your consent at any time. Contact TechTarget at 275 Grove Street, Newton, MA.
You also agree that your personal information may be transferred and processed in the United States, and that you have read and agree to the Terms of Use and the Privacy Policy.

Infonetics Research has predicted that sales of UC applications will grow in the high double digits each year through at least 2010, with unified messaging making up the largest component. Coupled with enterprises' appetite for collaboration, that growth is fuelling a massive UC fire.
And HP recognises that it isn't alone in the UC arena. The company has called on marquee partners like Cisco Systems, Microsoft and others to help create custom deployments that meld various components into an all-encompassing integrated UC package.
HP's tailor-made technology
HP's UC product portfolio includes HP iPAQ handheld devices, laptops and desktops, printers, HP Halo Collaboration telepresence, messaging, and other tools, along with tools from other UC vendors.
Rasmussen said the service portfolio features assessment, strategy and architecture services that enable enterprises to design custom roadmaps to plan their UC transitions -- whether these changes include migrating to VoIP and IP telephony or to unified messaging, presence, and data and videoconferencing. HP's services portfolio will ease the integration of all these tools, Rasmussen said.
Since UC deployments can vary widely from company to company, HP Services helps at every stage of the UC lifecycle, from finding the right starting point and identifying which technologies are needed to achieve the desired business results. HP can also manage and support integrated solutions.
And through its vast alliances with leading UC vendors like Cisco and Microsoft, along with other communications providers, like Avaya, Nortel Networks and Ericsson, users can weave together solutions that best suit their environments and ensure interoperability.
"We've had, across HP, a number of assets we're pulling into an integrated platform," Rasmussen said.
UC deployment drawbacks
In a recent interview about the state of unified communications, senior vice president Zeus Kerravala of research firm Yankee Group Research emphasised that companies need to hold vendors accountable for incorporating open standards into their technologies and that openness is part of successful UC deployments.
One problem, however, is that the freshness of the market causes many users to prefer features over openness; as a result, they end up locked into a particular vendor's UC system.
Another hindrance with UC is that companies don't have the budget handy to deploy and support it. Recently, UC was the talk of VoiceCon. Everyone had some form of UC to sell; but the problem, Kerravala said, is that "when everything is UC, nothing is UC."
Companies also fall short on choosing their UC path. If UC is truly going to bind together all these forms of communication, where do companies start: with unified messaging, with instant messaging (IM)?
"It would be bad to develop a strategy for full unified communications and have no starting point," he said. "To get started, you have to understand where IM and the other tools would help."
Companies have to step back and identify where the best value is.
"This is not something you can deploy and hope people will use," Kerravala said. "There are many elements of UC in use today; you have to understand where that is and build off of it."
Rasmussen said HP's service portfolio helps companies achieve that understanding. He said there are four different dimensions to considerations about when and whether to adopt unified communications. First, companies can take advantage of a technology refresh and upgrade the infrastructure to UC as part of that. Second, they should look at expanding the reach of applications and add-in capabilities like messaging integrations. Third, they should consider productivity boosting collaboration tools across organisations. And lastly, they should seek to wrap UC into business solutions to enhance business performance.
Many UC users, Rasmussen said, have deployed products from several vendors that, when integrated, can work together.
"I've got investments both ways," he said many businesses say. "There's not a lot of tolerance in throwing away solutions. They want to integrate them. We do the integration."
Begin with business needs
Rasmussen said HP's approach starts by looking at the business side of things and determines exactly what each company is trying to accomplish. From there, HP identifies the tools that can accomplish that goal.
"If you start with the features and functions, that gets confusing," he said. "We want to help [companies] understand what they have in place now and what they need to make it happen, and we pull that all together into a suite of solutions."