Midrange storage array purchase considerations
A Buying Guide focusing on specific considerations for midrange disk array systems. Also find a series of specifications to help make on-the-spot product comparisons between v
Smaller organizations typically have lower overall storage requirements and fewer users, so the demand for capacity and performance are not so acute. Instead, the midsized storage enterprise favors attributes like cost and ease. Midrange storage arrays hold a limited number of disk drives and can be far less expensive than large enterprise-class behemoths -- often providing a modular footprint that can scale within the rack as storage needs grow. Midrange arrays cover a lot of ground in today's storage organizations. For example, a midrange array can start with about 10 terabytes (TB) using 20 drives -- all the way up to 500 disk systems offering 250 TB or more. But midsized storage systems are about more than capacity and disks. They must also be simple to deploy, configure and manage without the need for dedicated administrators. For example, iSCSI connectivity and wizard-driven management interfaces are easily found in midrange storage arrays.

Although midsized companies can easily adopt a variety of midrange storage platforms, the actual choice of an array product demands a careful consideration of the cost, performance and management tradeoff. Now that you've reviewed the essential issues involved in any storage area network (SAN) upgrade, this Buying Guide focuses on specific considerations for midrange disk array systems. You'll also find a series of specifications to help make on-the-spot product comparisons between vendors, including 3PARdata, EqualLogic, Hitachi Data Systems (HDS) and Sun Microsystems.

Download this free guide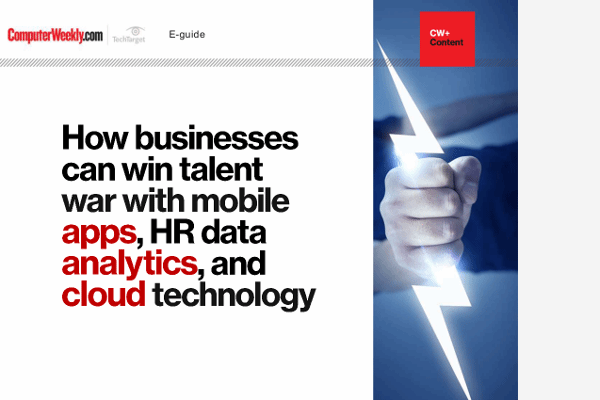 How businesses can win talent war with mobile apps, HR data analytics and cloud technology
Latest articles on HR best practices: mobile apps disrupting the annual staff appraisals; reasons for and against open-source software; and Rolls-Royce case study.
By submitting your email address, you agree to receive emails regarding relevant topic offers from TechTarget and its partners. You can withdraw your consent at any time. Contact TechTarget at 275 Grove Street, Newton, MA.
You also agree that your personal information may be transferred and processed in the United States, and that you have read and agree to the Terms of Use and the Privacy Policy.

Consider the connectivity and disk support. Midsized storage organizations can potentially employ a wide range of storage architectures, so it's important to match the current architecture with a prospective storage array. For example, the array may need 4 Gbit Fibre Channel ports for a full-fledged SAN, IP connectivity for an iSCSI SAN or network attached storage (NAS). Also select a midrange storage array to accommodate the disk type(s) needed for the intended service level. For example, Fibre Channel disks will meet top storage performance, but generally offer the least capacity. SATA drives offer the largest capacity, but the lowest performance. SAS drives often rank somewhere in the middle -- offering good nearline performance in large capacity drives.
Evaluate RAID options. You should generally expect a midrange storage array to support RAID features, but be sure to determine if the RAID levels are appropriate for the disk types that will be deployed. For Fibre Channel and SAS drives, single-parity RAID (e.g. RAID-5) is typically adequate. SATA drives often present reliability concerns in storage arrays, and dual-parity RAID (e.g., RAID-6 or a proprietary RAID-DP version) guards against the potential data loss caused by multiple drive failures, or the loss of a second drive while a first failed drive is rebuilding.
Consider the scalability. Chances are that you'll be upgrading the midrange storage array at some point during its service life. It's important to consider the cost of upgrades, the ease with which upgrades can be performed and the level of storage service disruption that should be expected during an upgrade process. For example, look for a midrange array that can accept a storage upgrade without downtime and handle the provisioning and migration of data without disruption to current users or applications. Beyond the scalability of sheer capacity, also consider the scalability of performance. Investigate the performance impact of capacity upgrades, and consider the tactics available to overcome any performance bottlenecks.
Consider the support for management and disaster recovery. Midrange storage arrays should be configurable and manageable by the existing IT staff or storage administrator. Training should be minimal -- usually included with the purchase -- and the new array should not add significantly to the total storage management overhead. Midrange arrays should also be included in the organization's disaster recovery plan, so consider any disaster recovery tools, such as remote replication or remote snapshot software, included with the system. If disaster recovery tools are already in place, make sure that those tools will support the new midrange array. Otherwise, the new tools may add more overhead to the disaster recovery process.
Consider the process and impact of data migration. It's not enough to simply buy, install and configure a storage array --- the data from existing storage systems must often be migrated to the new storage array. The process of data migration is often problematic, and unforeseen issues can easily disrupt users and mission-critical applications. This is particularly true for smaller organizations with limited IT staff. When considering a midrange array acquisition, take the time to sit with a vendor and discuss migration strategies before the purchase. Understand the process and problems involved. Develop a migration plan that the vendor is willing to assist you with.
Consider your escape plan. Not all system upgrades or new implementations go smoothly. When considering a midrange storage array, it's important to include a recovery plan along with a migration plan. If the deployment goes awry, know the steps needed to "back out" of an installation or undo a migration so that normal operation can be recovered quickly. In many cases, the vendor can help to establish a sound fallback plan.
The midrange storage array product specifications page in this chapter covers the following products:
3PARdata; InServ E200 Storage Server

EMC; Centera for mid-sized enterprise

EMC; Clariion CX3 model 20

EqualLogic; PS3800XV

EqualLogic; PS400E

Hewlett-Packard ; StorageWorks 4000 Enterprise Virtual Array

Hewlett-Packard ; StorageWorks 6000 Enterprise Virtual Array

Hewlett-Packard; StorageWorks 8000 Enterprise Virtual Array

Hitachi Data Systems .; Adaptable Modular Storage AMS200

Hitachi Data Systems .; Adaptable Modular Storage AMS500

Hitachi Data Systems.; Thunder 9530V entry-level storage deck

IBM; DS4800

IBM; DS4700 Express

Network Appliance .; FAS3000

Pillar Data Systems .; Axiom 500

Sun Microsystems .; StorageTek 6920 System

Sun Microsystems .; StorageTek 6540 Array

Xiotech Magnitude 750-2 iSCSI Storage