The government has announced the details of changes it will make to the Intra Company Transfer (ICT) scheme, which has been criticised for being open to abuse.
The details include the fact that ICTs must be doing graduate level jobs and those that earn less £40,000, that can stay for a year, cannot re-apply for another year. See the full announcement here.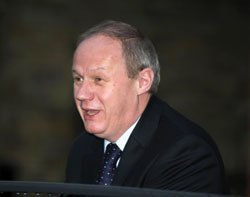 Immigration Minister Damian Green (pictured), said Britain will benefit from migration if it is controlled. "I am not seeking zero or negative net migration. Our aim is to reduce the level of migration down to the levels of the 1990s - tens of thousands each year, not hundreds of thousands."
But one campigner against ICT abuses was unimpressed and said the system is still open to abuse: "None of the proposed changes will make much difference. Tax free allowances for expenses will still count towards the minimum salary, so the £24,000 is meaningless. The year gap before returning only applies if someone returns under the same category of ICT visa and their are now four categories of tier 2 ICT plus tier 2 general visas that allow someone to switch at the end of a year or return immediately and completely bypass the one year restriction."
ICTs are visas used by businesses that have operations in the UK to bring staff from overseas. It was originally designed to enable large US companies to bring senior staff to the UK. But this has allegedly been abused by overseas companies to bring cheap labour in to enable them to offer cut price services. UK workers, particularly in the IT sector, claim to be priced out of the market.
A massive proportion of ICTs in the UK between 1997 and 2008 were from India.
When the government announced its immigration cap in November there was outrage as ICTs were left out. The government did however increase the minimum salary an ICT can be paid, who is staying over a year, to £40,000. This was to make it less attractive to bring in staff from overseas to replace UK staff.
Simon McVicker, head of public affairs at contractor group the PCG welcomed the announcement. "We are seeing a huge step forward in our campaign to regulate ICTs following years of work with the UK Borders Agency.
"We expected this major reform but are delighted that our recommendations to tackle ICT abuse through wage capping have been taken on board by the government. The consensus is that from here onwards the rules are unlikely to get more liberal," added McVicker.
Email Alerts
Register now to receive ComputerWeekly.com IT-related news, guides and more, delivered to your inbox.
By submitting your personal information, you agree to receive emails regarding relevant products and special offers from TechTarget and its partners. You also agree that your personal information may be transferred and processed in the United States, and that you have read and agree to the
Terms of Use
and the
Privacy Policy
.