Disaster recovery and business continuity fundamentals
The importance of disaster recovery and business continuity planning has been underscored in the wake of Hurricane Katrina, the Avian flu and 9/11. As important as maintaining continuous communications in a disaster is staying connected when random, fluke incidents occur. Find out how VoIP can keep your communications flowing through natural disasters, unexpected incidents or anything else that can disable your network.
The importance of disaster recovery and business continuity planning has been underscored in the wake of Hurricane Katrina, the Avian flu and 9/11. As important as maintaining continuous communications in a disaster is staying connected when random, fluke incidents occur. Find out how VoIP can keep your communications flowing through natural disasters, unexpected incidents or anything else that can disable your network.
Table of contents

VoIP helps ensure disaster recovery
VoIP needs to be at the core of any well-planned communications recovery strategy and companies looking to get a higher ROI (return on investment) from their VoIP implementation should use it to bolster their disaster recovery plans.

Download this free guide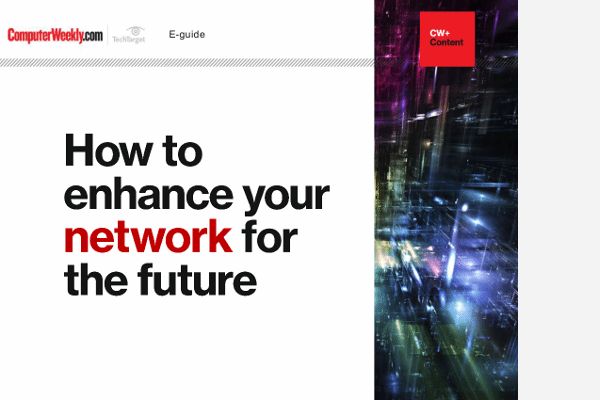 How to enhance your network for the future
Latest on networking developments and directions: NFV, self-optimising networks and IoT enabled smart cities
By submitting your email address, you agree to receive emails regarding relevant topic offers from TechTarget and its partners. You can withdraw your consent at any time. Contact TechTarget at 275 Grove Street, Newton, MA.
You also agree that your personal information may be transferred and processed in the United States, and that you have read and agree to the Terms of Use and the Privacy Policy.

When considering a VoIP implementation, companies usually discuss potential cost savings, unified communications and how to measure productivity gains. However, one thing that does not get brought up often enough is how corporations can use VoIP as a way to ensure continuous communications in the event of a disaster.
Planning for disasters the old PSTN way was very difficult and very expensive. Typically, this meant extra trunk lines and phone systems and normally involved the help of a telco to redirect calls from one location to another. There was no low cost way of getting telephony to a backup site and it was virtually impossible to recreate the office experience at home.
Because VoIP works at layer 3, it looks and acts just like any other IP-based application. Take email as an example. The user, no matter where he or she is, need not worry about the actual location of the mail server. The user plugs into an Internet connection, fires up the VPN client and just like magic, email works. There's actually no magic about it; that's the way IP is supposed to work. The same thing can be done for telephony if IP is being used. Anywhere there is an Internet connection, there can be corporate telephony. This flexibility and adaptability is perfect for any emergency or disaster situation where other networks may be inoperable.
Covergence, interoperability key in disaster planning
Converging voice and data onto one network and ensuring that a host of devices play nice together on those networks are key to communications continuity in the event of a disaster. And that message was hammered home recently by Avaya and several key business and public sector leaders who got together to discuss best practices for continued communication during a catastrophe. The Web event focused on keeping communications up and running during a disaster. According to Avaya, a recent survey of 1,000 IT managers found that 96% of organizations aren't confident that they are well prepared to communicate in a disaster, and 30% said they have no communications continuity plan in place at all.
Guy Clinch, director of public sector solutions for Avaya, said many public and private sector organizations know there is a need for some form of continuity plan, but only a handful are doing anything about it.
"Many things need to happen," he said. "First, they need to stop all the talking and start taking action."
@40805 The key, according to Clinch, is establishing interoperability, not only through unified communications -- VoIP, messaging, presence and other technologies -- but also by creating infrastructures that allow communication devices such as radios to interoperate with each other.
"We need the ability for any device to talk to any device on any network," he said. In the event of a disaster, "key players need to be able to communicate with each other."
Larry DiGioia, information services director for the City of Altamonte, Fla., said his city has worked tirelessly over the past three years to tie communications systems together to ensure that everything will be up and running, whatever happens.
"We're the government; our citizens are depending on us when things go wrong," DiGioia said.
Using industry standards and protocols, many organizations can centralize their operations and share applications over networks, Clinch said. VoIP is an integral part of the puzzle, but to use IP communication tools, organizations don't need to "rip and replace everything that's already there and convert it to the world of IP," he said. If an organization has aging PBXs, it can easily use interfaces to contact the server.
Communication continuity also depends on redundancy in the infrastructure, Clinch said. A modular approach can assist in that. DiGioia said the City of Altamonte has moved its communications center from one room in City Hall to a full single-story facility across the street. The communications center is encased in reinforced concrete, and all of the city's telecommunication and infrastructure feeds into it. T1 lines – in the event of failure -- are automatically backed up by fiber, he said. The fiber runs underground, directly between the city's various public services.
"A carpenter is only as good as his hammer," Clinch said. "Well, disaster recovery is only as good as the tools. Interoperability among devices and networks will lead to the convergence that will enable communication continuity."
VoIP, unified communications weather storm
In theory, using a VoIP implementation to bolster a disaster recovery plan for your business sounds nice. But will it work in practice? Buffalo Communications, a Boulder and Denver area technology reseller, found that a disaster recovery plan was just what they needed this past winter, as Colorado was walloped by successive blizzards that brought most of the state to a standstill.
Dave Michels, company president, notes, "This is Colorado. We always have two or three snow days a year, but this storm closed down everything. The storms closed the airport, grocery stores, everything. I've never experienced anything like this. This was a pretty major event."
@40804
For Michels and the rest of the Buffalo team, however, it was business as usual.
Michels said the company runs on the Mitel 3300 IP PBX as its IP communications platform. In the past, Buffalo had rolled out Mitel's Teleworker Gateway for demonstration and sales purposes. But the rash of storms forced Buffalo to truly roll it out, deploying the Teleworker Gateway, which brings the corporate network to pretty much any location, to more and more end users.
Using the gateway and VoIP phones, Buffalo staff were able to work from home and stick it out through the storms -- keeping the business running without customers' noticing anything was amiss.
"We changed the way we handle incoming calls," he said, noting that Buffalo switched to Mitel ACD (Automatic Call Distribution) to handle and distribute incoming calls. End users would log in to all calls from home as they would in the office.
"We actually had a big spike in calls because people were closing their offices," he said. "We didn't miss a beat. Techs were dispatched, trucks rolled and tickets were taken care of. Everybody was working like clockwork and no one was in the office."
The entire experience was an eye-opener, Michels said. Despite not setting out to tackle disaster recovery, that's just what Buffalo Communications ended up doing.
"We didn't go into this as a disaster recovery plan," he said. "A lot of what VoIP has done is really enabled us to grow our communications ability. We didn't miss a beat, and it was never really planned out as disaster recovery."
Michels said that the storms and Buffalo's ability to recover from them illustrate that companies need to be accessible and keep running despite Mother Nature or other forces.
Outsourced VoIP helps devastated company recover

Outsourced VoIP came in clutch for Cool Systems Inc. after their Berkeley, Calif., offices were ravaged by fire and left in a smoldering pile of rubble.
On the evening of July 1, 2005 -- the start of Independence Day weekend -- flames tore through Cool Systems Inc., which operates as Game Ready, a company that makes medical devices to accelerate recovery from sports-related injuries.
"We couldn't salvage anything," said Cool Systems vice president Marty Reed.
The fire not only destroyed the physical building, but corporate phones were destroyed, melted beyond saving. For Cool Systems, answering calls is central to business. Sales calls, customer questions and other phone-related business are important components.
Luckily, not long before the fire, Cool Systems chose an outsourced, hosted VoIP system from CallTower, Reed said. CallTower handles many of Cool Systems' voice and data needs, such as call routing, voicemail, 800 numbers, call center and Internet. Reed said he was able to log onto CallTower's Web site and select where incoming calls should be routed. He personally had calls forwarded to his home. For other needs, a quick call to CallTower helped the "speedy and flexible adjustments." If customers called and got a voicemail, it was the same voicemail system they would've accessed before the fire. @40806
"All of our phones had been destroyed," Reed said. "Because all of our calls come through CallTower, our voice system never went down."
Cool Systems had an extended holiday weekend to get things back on track. That year, July 4 fell on a Monday. With a few service and support calls and some adjustments in CallTower's Web interface, most business-related calls to Cool Systems were rerouted to employees' home and cell phones, meaning that customers calling in would have no clue the building had burned to the ground -- unless, of course, they saw the massive amount of news coverage of the fire.
"From a customer perspective, it was business as usual," Reed said. "Our customer service was literally sitting in the parking lot of a no-longer-standing building answering calls. We were sitting in lawn chairs. The concept of a virtual office was taken to a new height at that point."
A few days later, Cool Systems was in a new office space. It took less than a week to be back up and fully operational.
Our fire was public," Reed said, noting the enormous news coverage. "Being able to show the world that Tuesday morning, 'No, we're up and running,' was great for us. Our company could've been destroyed. If we had not had data and voice backups, we might not have even tried to bring the company back."
Overall, Reed said, Cool Systems' business took a small hit in July, but the growth and momentum the company started to see before the fire resumed a short time later.
Cool Systems had been with CallTower for about 18 months prior to the fire. Before that, the company had a traditional TelRad phone system with an in-house server. Had a fire occurred under the old system, the cost to replace and fix would have been astronomical, Reed said -- not to mention the time it would've taken to reprogram the server and add the new phones.
The biggest lesson of the fire, according to Reed, was the need to have an iron-clad business interruption plan in place. He said there's no way to plan for disasters such as the fire, but having a plan in place to enable an impromptu off-site office unbeknownst to a customer is imperative.
"There's no question that I will continue to use outsourced solutions in the future," Reed said. "It's invaluable."
Testing alone cannot defeat all attacks against VoIP. How you choose to deploy, configure and use your VoIP products is equally important. However, tests like these can help you reduce the inherent risk posed by SIP and H.323 protocols.