4 Gbit Fibre Channel switch purchase considerations
As SANs scale up, data centres often upgrade and expand the SAN switch infrastructure. Here's what to look for when scaling
This Article Covers
RELATED TOPICS
Switches are used to segregate network traffic, ensuring that data on one network segment is only passed to the segment that leads to an intended destination. This helps to organise the network and reduce unneeded traffic to other nodes. Switches are particularly crucial in a storage area network (SAN) to interconnect servers and storage devices into the overall SAN fabric. As SANs scale up over time, data centres often upgrade and expand the SAN switch infrastructure.

Download this free guide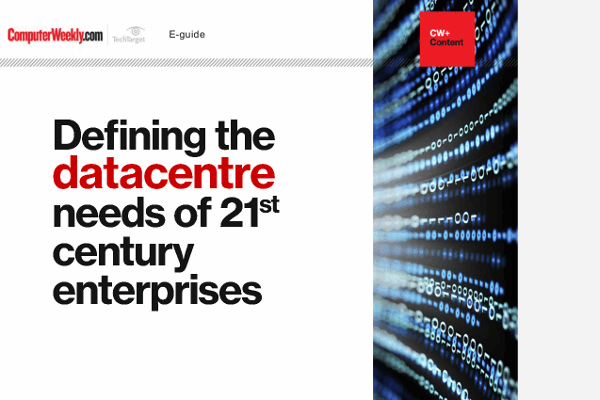 Defining the datacentre needs of 21st century enterprises
A collection of our most popular articles on datacentre management, including: Cloud vs. Colocation: Why both make sense for the enterprise right now; AWS at 10: How the cloud giant shook up enterprise IT and Life on the edge: The benefits of using micro datacenters
By submitting your email address, you agree to receive emails regarding relevant topic offers from TechTarget and its partners. You can withdraw your consent at any time. Contact TechTarget at 275 Grove Street, Newton, MA.
You also agree that your personal information may be transferred and processed in the United States, and that you have read and agree to the Terms of Use and the Privacy Policy.

In most cases, the switch fabric is based on traditional Fibre Channel (FC) technology for its high speed, low latency and advanced reliability features such as ISL trunking, as well as security features that protect the storage network. This chapter emphasises the role of port speed -- accelerating SAN performance by replacing older 1 Gbit/s or 2 Gbit/s FC ports with faster 4 Gbit/s FC switch ports. Faster switch ports not only allow for faster interconnections, but also support several slower devices connected to the same port (e.g., two 2 Gbit storage devices fanned in to a single 4 Gbit switch port). This tactic can help to mitigate the cost of 4 Gbit ports by reducing the total switch port count.
Regardless of your scaling objectives, it's important to choose the right switch for your environment. There are numerous 4 Gbit FC switches to choose from, and the actual choice of an enterprise switch demands careful consideration of issues like speed, performance, port count and interoperability. After reviewing the essential issues involved in any storage network scaling project , this segment will first focus on specific considerations for director-class 4 Gbit FC switches. After that, you'll also find a series of specifications to help make on-the-spot product comparisons between vendors, including Brocade Communications Systems, Cisco Systems and McData (now part of Brocade).
Determine an adequate port count. There should be enough switch ports available to accommodate existing storage devices and allow headroom for reasonable storage growth into the future. In many cases, multiple slower servers or storage devices can be aggregated to fast 4 Gbit FC ports. Conversely, many SAN configurations commit multiple switch ports to each connection. Multiport setups help performance through trunking and improve reliability through redundancy and failover capability. This helps to eliminate single points of failure in the fabric that might render some storage inaccessible. In terms of speed, 4 Gbit/s FC ports are generally considered standard today, but 10 Gbit switch ports are starting to appear.
Evaluate the buffer credits. If the switch ports are intended to span a distance, the latency involved can limit the practical distance. Buffer credits will be needed to overcome this effect -- changing the number of unacknowledged frames allowed between the sending and receiving ports. Large buffers are generally required for long distance, high volume, and high speed communication between distant points.
Confirm interoperability in the storage environment. While 4 Gbit FC switches should generally work together, it's still important to verify interoperability with other switches and storage systems and management software tools early in the acquisition process. The vendor's product compatibility matrix is typically a good place to start, though a vendor can usually provide specific details and assistance with compatibility testing if the need arises. As a rule, switch consolidation can ease interoperability issues because there are fewer switches (and switch vendors) involved in the overall fabric.
Consider specialised application support. Understand any applications that depend on the SAN environment and evaluate the importance of application support. Switches specifically designed to accommodate enterprise resource planning (ERP), data warehousing, backup, mirroring/snapshots and other key tasks may have a profound impact on the performance of those applications. As one example, Cisco's MDS 9509 Multilayer Director touts storage virtualisation along with server-less backup and CDP using their SANTap application. Lab testing and evaluation prior to purchase can help to identify the suitability of a switch for a particular application.
Consider other switch features and management capabilities. Beyond the port attributes, it's important to weigh the entire suite of switch features. For example, other feature areas of the switch may include security, performance monitoring, ISL trunking, call-home maintenance and a variety of high-availability capabilities. Pay particular attention to expandability options, especially if you plan to consolidate multiple switches into a larger switch or director. Also, look for high-end intelligent features, such as data replication. Remember that some switch features may require additional (often recurring) fees, so be sure to identify any additional fees and factor those fees into the new switch's TCO.
Consider a switch consolidation strategy. Each new FC switch added to the SAN will impact reliability, performance and management. Eventually, a lot of little switches will become difficult to troubleshoot and impossible to manage. The cumulative delay of interswitch links (ISLs) can slow communication across the fabric and impair performance. Analysts recommend consolidating smaller switches into fewer, larger switches, such as directors, wherever possible. This improves switching performance and greatly simplifies management because many more ports are managed through a single software tool.
Consider a single-vendor strategy. Many organisations work with a variety of switch vendors. While such competition can help save on capital expenditures, experts note that this may actually be a false economy. Mixing and matching switches may actually result in wasted money because the features and capabilities of one switch may not be supported by other switches from different manufacturers. For example, mixing dissimilar switches may compromise key security features that might not be supported across all of the switches in a SAN. Settle on Brocade, Cisco or another vendor of choice. If you choose to eliminate secondary switch vendors, approach the process in phases to reduce SAN disruptions.
The 4 Gbit FC switch product specifications page in this chapter covers the following products:
Brocade Communications Systems ; SilkWorm 48000 director

Brocade Communications Systems; Mi10K (formerly McData)

Brocade Communications Systems; M6140 (formerly McData)

Cisco Systems; MDS 9124 Multilayer Fabric Switch

Cisco Systems; MDS 9506 Multilayer Director

Cisco Systems; MDS 9509 Multilayer Director

Cisco Systems; MDS 9513 Multilayer Director
Read more on Networking hardware