highwaystarz - Fotolia
Encouraging kids into Stem: problems and suggestions
Influencers within the science, technology, engineering and maths (Stem) sectors describe the problems preventing children from pursuing Stem careers, and how they might be fixed
The UK is suffering from a skills gap. Graduates are leaving university without the skills needed to go straight into work, leaving the IT industry with a lack of skilled workers. The number of unfilled digital jobs in Europe is forecast to reach 756,000 by 2020.
More than half of IT decision-makers believe there are not enough young and talented people in their organisations.
Taking part in a discussion on the matter at IP Expo 2016 were Tech Mums founder Sue Black, TV presenter Johnny Ball, IET vice-president Will Stewart, Hewlett Packard Enterprise UK & Ireland MD Marc Waters, and Teen Tech founder Maggie Philbin.
They highlighted a limited curriculum, lack of support for teachers and limited government involvement as the main causes of a shortage of young people going into science, technology, engineering and maths (Stem).
The panel said that by injecting more creativity into the school curriculum and making parents more aware of what a tech job involved, many more people could be driven towards Stem subjects.
Tech Mums founder Sue Black said: "You can change an attitude in hours."
The panel claimed the current curriculum was very limited because there was such a strong emphasis on passing exams and no focus on giving teachers and students space to work on self-led projects.
In 2014, the government made it mandatory for children between the ages of five and 16 to be taught computing, including coding and computational thinking concepts.

Download this free guide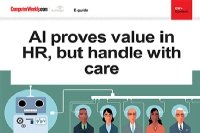 How AI is putting the 'human' back into Human Resources
Discover how the allocation of work by algorithm might have advantages for workers as well as employers, how AI is proving its value for HR and how data analytics is being used to support expansion and development.
Read more on IT education and training