Javen - stock.adobe.com
Oracle CloudWorld 2023: Ellison heralds dawn of generative AI era
Oracle's founder and chief technology officer, Larry Ellison, lends his heft to the generative AI vogue
Oracle chief technology officer and founder Larry Ellison endorsed a radical vision of what generative artificial intelligence (AI) could achieve in the future during his keynote speech at Oracle CloudWorld 2023 in Las Vegas.
He told attendees not to underestimate the technology. "ChatGPT has captured our imagination. Most new technology does not capture the attention of heads of state. This is like the Sputnik moment," he said, referring to the USSR's satellite launch in the late 1950s.
Ellison and his company are not neophytes in the world of data analytics and artificial intelligence. He said of the vogue for generative AI spawned by the invention and diffusion of ChatGPT: "The artificial neural network itself was not different from the previous one, or the one before that. It was the same architecture – the only difference with GPT 3.5 was the neural network was bigger, the training data was more vast.
"Is generative AI the most important new computer technology ever?" he mused. "Probably. One thing is for certain – we will find out, because countless billions of dollars are being invested in generative AI and language models.
"In the past 12 months, companies like Cohere and ChatGPT, and others, have developed new large language models which generate not only language, but images. They write music, they write poetry, they generate computer code, so that's getting close to home [for us]. And coming soon, very soon, in the next couple of months, will be complete self-driving cars from Tesla."
But then he posed the question: "How is this working out for Oracle?"
"So far, we're pretty happy. In relation to other cloud providers, one of the most interesting ways [we are different] is that the network we use to interconnect our computers to the cloud is very different than the other cloud vendors. We provide a remote data memory access network. That means one computer in the network can access the memory of another computer without tapping that computer on the shoulder and getting into the records. It has the ability to move a lot of data from one computer to another extremely fast, many times faster than conventional models."
The supplier said it has stepped up its provision of artificial intelligence to its Oracle Fusion suite of cloud-based applications, claiming "the new capabilities detect and connect relevant account records in Oracle Fusion Cloud ERP to provide sellers with actionable insights".
It also announced the addition of AI to Oracle Fusion Cloud Customer Experience (CX) to help marketers, sellers and service agents grow revenue major on customer experience. These latest AI capabilities are said to "liberate marketers, sellers and service agents from time-consuming and manual tasks by unlocking relevant content, recommendations and insights with automation and conversational interfaces".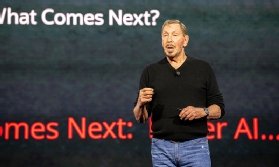 "Pre-trained large language models are changing the way we interact with people, content and critical knowledge in our enterprises," said Rob Tarkoff, general manager of Oracle Cloud CX. "With a unique combination of traditional and generative AI, running on Oracle Cloud infrastructure and embedded in application flows, Oracle Cloud CX enables customer experience professionals to do their jobs with more accuracy and efficiency."
New Oracle Cloud CX capabilities include Generative AI for Service, which the supplier said generates content and streamlines processes automatically to help organisations resolve customer service issues faster.
Oracle also announced generative AI services for healthcare organisations. Integrated with Oracle's electronic health record (EHR) systems, an Oracle Clinical Digital Assistant is said to enable healthcare providers to use generative AI, together with voice commands, to reduce manual work so clinicians can focus more attention on patient care.
It is said to make it easy for patients to take self-service actions, such as scheduling appointments or checking clinical information, using voice commands. For physicians, the assistant participates in appointments using generative AI to automate note taking and to propose next actions, such as ordering medication or scheduling labs and follow-up appointments.
Read more about Oracle Cloud World
Read more on Artificial intelligence, automation and robotics