Martin Lee - stock.adobe.com
CIO interview: Richard Corbridge, Boots
Boots has been hugely successful in its transition to e-commerce and the Covid-19 pandemic has seen several digital initiatives spun up to continue offering services to customers
Richard Corbridge has made a rare switch when it comes to IT leadership. After many years successfully spearheading technology change in a range of public sector organisations, he moved to the private sector in April 2019, to join high street chemist Boots.
He became director of innovation at the chemist, helping to build a creative approach to healthcare and well-being capability across the brand, before being asked to also fulfil a specialist role from the start of 2020, where he investigated how Boots could transition many of the high street services it offers and make them available to customers online.
Success here led to another switch in August 2020 – this time to the CIO role, a position he'd previously fulfilled in a series of organisations, including Leeds Teaching Hospitals NHS Trust, the Health Service Executive in Ireland and the NIHR Clinical Research Network.
Corbridge was asked to step into the CIO role at Boots after the incumbent returned to the US. Now, two years after joining the private sector, he's loving the challenge of running enterprise IT. Corbridge is also relishing his return to the CIO role.
"It's still really exciting," he says. "It feels weird in some ways – two years into Boots, and I've had three jobs – but going back to being a CIO also feels like coming home. I've spoken to a couple of old CIO friends recently, and you don't realise how much the role means to you until you don't do it anymore. It's something you miss."
Content Continues Below

Download this free guide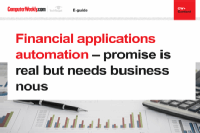 Financial applications automation – promise is real but needs business nous
The automation of the financial software that lies at the heart of any business & accountancy, budget management, general ledger, payroll, and so on & is a prize many organisations are eyeing up, with machine learning and robotic process automation close to mind. Find out everything you need to know by downloading this PDF E-Guide.
Read more on CW500 and IT leadership skills