Caerphilly council delivers free school meals through automation
Welsh council expands its robotic process automation project, which has successfully helped the council deliver free school meals during the Covid-19 pandemic
Caerphilly County Borough council's investment in robotic process automation (RPA) software has enabled the organisation to react quickly to challenges brought about by a spike in demand for free school meals.
The council's use of automation software in the delivery of free school meals is part of a broader project to free up human resources and to stop repetitive processes "grinding people down".
Liz Lucas, head of digital customer services at the local authority, said that the council began looking into using RPA software in 2018 to free staff up to from mundane tasks.
"I was relatively new in my role and was interested in how we could change these processes to release people into the front line," she said. "This included staff across the authority and not just in the digital team. Process was grinding people down."
The council began working with Thoughtonomy, now owned by Blue Prism, 18 months ago.
Lucas said she initially had a conversation with a representative at Thoughtonomy, which was the first time she had been told of the capabilities of RPA software.
She thought it was too good to be true , but after doing her own research she found that it resonated with her desire to take away mundane tasks and the red tape associated with local government.
"I wanted to release people from mundane tasks so they could do what is important to the customer. We are public servants, so we shouldn't be stuck behind desks," she added.
In late 2018, the digital team and council began talking about the possibilities and Lucas was given approval to start some RPA projects.
"We started to go forward at a pace and ran pilots internally," she said, with the team "cutting its teeth" with a simple process that needs to be done when staff leave the council or move within it, such as automatically deleting an employee from internal systems when they leave the authority.
Projects were then run regarding the processes around invoice payments in social services.
Applying RPA to deliver services
The disruption brought by the Covid-19 pandemic has seen the council harness its RPA leanings. "Our flagship project during the pandemic was to assist with the delivery of free school meals," said Lucas.
The council's catering service team was dealing with increased numbers of free school meal applications and had to ensure that every eligible child received their weekly bundle of nutritious meals. This work was taking up to five days per application.
Following the automation of the process, the RPA software takes over when an application is submitted by the parent/guardian. It is picked up and opened by the virtual worker that then copies all the information across into a council system, which would have all been manually re-keyed in previously.
The system connects with the Department of Work and Pensions (DWP) and the application is assessed, where a decision is made and the response sent automatically to the citizen.
"Instead of people having to man a phone for people booking a free school meal, we have completely automated it," said Lucas. "We have extended the service over and beyond and we are delivering to people's houses."
She said the Covid-19 pandemic had the double-edged effect of creating higher demand for council services and reducing staff availability. "In the middle of a pandemic, we have been short of staff. Automation has enabled us to keep critical services functioning," she added.
Due to the extra work required in processing the increased demand for free schools meals, some local authorities gave parents vouchers to buy the food. In Caerphilly, automation enabled the council to provide the meals direct using its local food supply network.
Lucas said a major learning in the digital team was discovering the number of people needed to run these projects. "We underestimated the dedicated resource we needed. We have one full-time person and three doing it part-time as part of their jobs," she said.
The council is also working with contractor Codebase8, which provides automation services.
The council has big plans for automation this year, including running joint projects with neighbouring authorities. It is currently working on the automation of the processes around people applying for disabled parking permits, known as the Blue Badge scheme. This project is in its build stage.
Also currently in design are projects to automate processes around complaints, school uniform grants, and education transport applications.
Initial scoping is being carried for work processing freedom of information and subject access requests, setting up of new suppliers for payments, and for new starters processes.
Lucas said all of the projects are about improving efficiency and the level of service to customers. "It is not a money saving project and has not caused any redundancies, which is not part of our plan," she added.
Read more about RPA
RPA developer skills are among the most valuable on any resume. Here's why organisations seek out developers with these skills and what returns RPA can deliver to an enterprise.
Experts in automation offer insight on why RPA implementations fail in the enterprise and how IT leaders can avoid them to ensure they're getting the most out of the technology.
Finance and accounting tasks require unflagging accuracy. Enter robotic process automation. Learn how RPA can streamline efficiency in multiple areas.
Content Continues Below

Download this free guide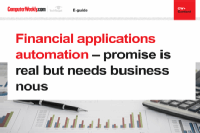 Financial applications automation – promise is real but needs business nous
The automation of the financial software that lies at the heart of any business & accountancy, budget management, general ledger, payroll, and so on & is a prize many organisations are eyeing up, with machine learning and robotic process automation close to mind. Find out everything you need to know by downloading this PDF E-Guide.