Ericsson
Ericsson claims strong momentum across Africa
Swedish comms tech provider Ericsson bags series of contracts across African continent, highlighting growing footprint in region as communications service providers move to strengthen their networks and cater to demand for enhanced mobile services
As it reveals that it has racked up modernisation contracts with communications service providers (CSPs) in Kenya, South Africa, Madagascar and Benin to boost network performance and manage subscribers' growing data demands, Ericsson believes that forward-thinking CSPs in Africa are already securing their role in a dynamic market thanks to advanced infrastructure technology.
The Swedish comms provider said that these latest deals and others reflect the rapid growth of mobile connectivity across the region, as consumer demand for enhanced mobile services continues to grow. Ericsson said that this not only shows that Africa is one of the fastest growing mobile markets, but it reiterates the need for a more efficient technology, higher data rates and availability of ample spectrum.
"Technology brings an unprecedented opportunity to address the challenges of sustainable economic development and improve the livelihood of people in Africa," said Fadi Pharaon, president of Ericsson Middle East and Africa. "Mobile and fixed networks are key components of critical national infrastructure to sustain and evolve emerging economies during remote work times."
The new deals follow Airtel Africa expanding its strategic partnership with Ericsson in October 2020 to enable 4G coverage in Kenya through RAN and packet core products for 4G. The network modernisation deal is in line with the Kenyan Digital Economy Blueprint Vision 2030, which aims to provide 'robust' connectivity in rural areas and facilitate e-commerce platforms.
In June 2020, Telma Madagascar switched on its Ericsson-enabled 5G commercial network to offer subscribers high-speed services enabled by the new generation of mobile connectivity. In the same month, MTN South Africa went live with commercial 5G in Bloemfontein and Port Elizabeth.
Earlier this year, MTN Benin extended its long-term relationship with Ericsson to provide managed services, including network operations center, field services in radio, core and transmission in Benin. Under the agreement, the future capabilities of efficiencies, automation and data will enable MTN Benin to create a predictive operations with focus on customer experience, network quality, performance and automation.
Ericsson is a key MTN South Africa supplier partner deploying products and solutions spanning its radio access network (RAN), system, transport, 5G core and spectrum sharing technology.
Read more about communications in Africa
Content Continues Below

Download this free guide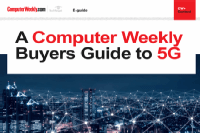 A Computer Weekly Buyers Guide to 5G
Despite the fears of many that rollouts of the next generation infrastructure would be delayed or just not be possible due mainly to the adverse economic conditions caused by Covid-19, the prospects are actually quite bright for the 5G industry in 2021. Download this EGuide to find out what enterprises need to know about 5G.
Read more on Telecoms networks and broadband communications