Production Perig - stock.adobe.c
NHS seeks new national data guardian for health and care
New national data guardian will take over the post from Fiona Caldicott, working to build trust in data use across health and social care
The government is looking to appoint a new national data guardian for health and adult social care, offering up to £45,000 a year for the part-time role.
The data guardian will have to offer advice, guidance and scrutiny to the health and care system, aiming to ensure people's information is kept securely and shared appropriately.
The government is looking for a candidate "with knowledge of health and social care organisations and the system, the information governance framework within which they operate and in particular the common law duty of confidentiality, how modern information technology can impact on the privacy of individuals, and public attitudes towards the use of health and care data", according to the job advert.
The successful candidate must demonstrate leadership with a "successful track record of credible and strategic leadership, including working with other organisations to deliver results and the ability to challenge systems in health and/or social care when needed", it added.
The candidate must also have both understanding and experience of the "practicalities of the security and use of sensitive data and the evolving technology that underpins it", as well as having experience of using data to improve organisations and building data sharing.
The new data guardian will take over from Fiona Caldicott, who has held the role since it was created in 2014. During her time as national data guardian, Caldicott led the review of opt-outs and data sharing in the NHS, which led to the government pulling the plug on the controversial Care.data project after she asked it to consider the future of the programme.
In 2016, Caldicott published a review on data security in the NHS, setting out 10 new standards based around people, processes and technology.
In 2019, the role of data guardian was put on a statutory footing, aiming to "strengthen the role as an independent and authoritative voice for the patient on how their data is used in the health and care system".
The new candidate will be selected by a panel comprising NHSX chief executive Matthew Gould, NHSX director of policy and strategy Simon Madden, and senior independent panel member, departmental official Elizabeth Watkins.
Read more about the national data guardian
Content Continues Below

Download this free guide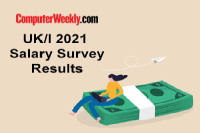 2021 UKI Salary Survey - Salary Infographic
We take a look at our 2021 Salary Survey results from over 300 respondents who work in the UKI IT sector. We will be breaking down which job functions get paid what, what areas of IT companies will be investing in in 2021, the current diversity landscape residing in the UK tech sector and how the pandemic has effected IT staff.