CROCOTHERY - stock.adobe.com
Hull supercomputer helps fight Covid-19
University's Viper supercomputer team join forces with Sheffield-based HPC specialist in global distributed computing project focused on the coronavirus
A supercomputer at the University of Hull is being used to help researchers across the globe understand how the Covid-19 coronavirus spreads and how to tackle the pandemic.
The university has joined forces with Sheffield-based high-performance computing (HPC) specialist OCF to work on [email protected], a global distributed computing project for simulating protein dynamics.
The project was developed by Stanford University, and the data allows scientists to better understand the biology of the virus, which can be used to develop new treatments for it.
The project brings together personal computers and those donated by larger companies across the world, enabling them to join up and run large simulations. The supercomputer, named Viper, can download and process chunks of simulations too large for a normal computer.
Chris Collins, research systems manager at the University of Hull, said that breaking up and distributing large tasks across personal computers is not a new concept, with projects using this approach since the 1990s.
"Supercomputers like Viper are normally used to tackle the grand challenges of science and engineering on their own, rather than as part of a distributed project like this," he said. "However, Covid-19 has really brought computers like Viper to the forefront of the [email protected] project.
"Everyone just wants to find something that will help prevent the virus from spreading. We cannot be on the front line like NHS staff are, but this is something we can do to help."
The University of Hull is not the only organisation using technology innovation to help tackle the coronavirus.
At the University of Bradford, media and design technology graduates from the university's Working Academy are delivering NHS applications to help local hospitals manage the pandemic, and back in April, a virtual hackathon, Hack from Home, was held with the aim of developing technology to help fight the spread of coronavirus, as well as mitigate its economic and social impacts.
The hackathon, which was supported by NHSX and other major partners, aimed to collectively develop 25 applications to help tackle coronavirus challenges.
Read more about tech and the coronavirus
Content Continues Below

Download this free guide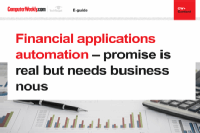 Financial applications automation – promise is real but needs business nous
The automation of the financial software that lies at the heart of any business & accountancy, budget management, general ledger, payroll, and so on & is a prize many organisations are eyeing up, with machine learning and robotic process automation close to mind. Find out everything you need to know by downloading this PDF E-Guide.