ar130405 - Fotolia
Open source community joins Covid-19 fight
Red Hat and others in the global open source community are doing their part to develop tools and other initiatives to help the world tide over the coronavirus outbreak
As a steward and proponent of open source software, Red Hat has been doing its part for organisations across Asia-Pacific that are looking to contribute their source codes to the open source community.
One such organisation is Singapore's Government Technology Agency (GovTech), which has open sourced the contact-tracing protocol used in its TraceTogether app in April 2020 to help other authorities stem the global Covid-19 pandemic.
Dirk-Peter van Leeuwen, senior vice-president and general manager for Red Hat Asia-Pacific and Japan, said the company had helped GovTech "navigate the open source community" and find the most efficient way to publicise and open source its source codes.
"That's the way we've been adding value to GovTech and other companies that are looking at the open source development model to do something during the Covid-19 outbreak," said van Leeuwen.
Weighing in on GovTech's open source efforts amid the pandemic, van Leeuwen said the move would put other governments that wish to develop a variant of TraceTogether at ease.
"There's less sensitivity about using the same software because they have full access and control of it," he said. "They can tap the best ideas and there's also no commercial intellectual property or agenda behind it to worry about."
"We are reaching out to customers with a different face where we don't try to cross-sell and up-sell anything; rather we try to help them keep their lights on and achieve their goals in the longer term"

Dirk-Peter van Leeuwen, Red Hat Asia-Pacific and Japan
TraceTogether is among a growing number of open source projects that have emerged around the globe in recent months.
In the US, a team of healthcare experts at the University of Pennsylvania have developed an open source tool that estimates the impact of Covid-19 on local communities based on population size, hospitalisation rates and whether or when social distancing measures were implemented.
In China, an open source information platform was started to facilitate the exchange of information between resource providers like logistics companies and those that need help, such as hospitals and relief agencies.
On the commercial front, van Leeuwen said while Red Hat expects to survive the economic fall-out from the outbreak, the company has adopted a spirit of helping affected customers tide over the global health and economic crisis.
"We are reaching out to customers with a different face where we don't try to cross-sell and up-sell anything; rather we try to help them keep their lights on and achieve their goals in the longer term," he said. "Ultimately, they will remember who helped them in hard times and who didn't."
For example, with many countries instituting national lockdowns and shutting down workplaces except those that deliver essential services, van Leeuwen said organisations were looking to automate processes whenever they can.
Read more about open source in APAC
"That requires them to quickly set up automation as they can't have as many people in datacentres as they used to have," he said, adding that Red Hat's open source Ansible tool would suit them well and is easy to deploy.
At Red Hat's virtual summit last week, the company announced a slew of support initiatives, including free online training, discounts for technical account management services and extending product lifecycles across portions of its portfolio.
In March 2020, Red Hat rival SUSE said it would offer free services, such as support and maintenance, for its Linux operating system and container technologies to help manufacturers speed up the time to produce medical devices.
SUSE will also extend its support, including security updates and bug fixes, for SUSE Manager 3.2, free of charge, by an additional three months until 30 September 2020 to keep its customers' infrastructure secure during this period.
Content Continues Below

Download this free guide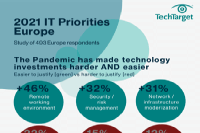 IT Priority Budgets 2021 Infographic
After surveying near 500 European IT sector professionals, the jury is out on what companies across the continent will be spending on in 2021. We dive into what spend will be easier to justify, if budgets for IT companies are on the rise or fall and what the 2021 project rankings are for most in the new year. Download this PDF infographic to find out what the results showed.