Ericsson
Ericsson gains 5G spur with $150m extended credit facility
Swedish tech giant gets loans extension to support research and development of 5G technology in 2020-2022
After a period of intense activity when it has made frequent advances in the field of 5G infrastructure equipment, Ericsson has closed 2019 by extending its credit facility with the Nordic Investment Bank (NIB) to $150m.
The loan has been granted for the explicit purpose of financing Ericsson to support investments in research and development of 5G technology during the years 2020-2022.
Ericsson says the key for success in the telecom industry is the delivery of future-proof, high-quality networks and solutions, and it claims to be the leading contributor in the development of open telecom standards, with 49,000 patents.
Indicating the importance of 5G in the company's future, the recent Ericsson Mobility Report forecast that the number of 5G subscriptions in the next six years will soar past 2.6 billion, with video applications being a driving force of a surge in data usage.
The last few weeks have seen Ericsson make some major 5G announcements. On 18 December, it announced that its cloud-native, container-based, evolved packet core had been deployed in Australian operator Telstra's production network functions virtualisation infrastructure (NFVi), to enable it to scale traditional wireless networks in creating new 5G services for consumers and enterprise customers.
At the same time, Ericsson announced that it was a step closer to standalone 5G after completing what it claimed was the industry's first successful voice over new radio (VoNR) interoperability test with device ecosystem partner MediaTek.
And the company began December by revealing that Chinese smartphone manufacturer OPPO had deployed its dynamic spectrum-sharing technology in a data call on Telstra and Swisscom 5G networks.
The new funding from Nordic Investment Bank will mature in 2025, and $98m of it will replace credit with NIB that was set to mature in 2021.
"Our increased investments to secure technology leadership in 5G, IoT and digital services have enabled us to reach nearly 80 commercial 5G agreements and contracts with unique operators, 24 of which are live networks – more than any other company," said Erik Ekudden, chief technology officer at Ericsson.
"In the coming years, we will see 5G networks going live around the world, with major deployments from 2020, and we expect the global number of 5G subscriptions to top 2.6 billion in 2025. The technologies that we are investing in are fundamentally changing the way we innovate, collaborate, live and do business."
Content Continues Below

Download this free guide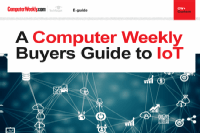 A Computer Weekly Buyers Guide to IoT
In these uncertain times, making solid predictions for the year ahead looks like a definition of a mug's game. While this has been the fuel for the fire for the boom in applications such as video conferencing as used to support remote working, the same really can be said for the internet of things (IoT). Download this E-Guide to find out what enterprises need to know about IoT.
Read more on Telecoms networks and broadband communications