London needs to accelerate full-fibre digital infrastructure delivery
London's capability to be the tech hub it aims for is currently limited by a range of issues, including the availability of fibre and the speeds delivered, says report from mayor Sadiq Khan's office
London should be a world-leading tech hub with world-class digital connectivity that can anticipate growing capacity needs and serve hard-to-reach areas, according to the Mayor of London's office, as Sadiq Khan publishes his revised London Plan.
The updated plan stresses that the provision of digital infrastructure is as important for the proper functioning of development as other utility services, and should be treated with the same importance given that fast, reliable digital connectivity was essential, especially for digital technology and creative companies.
Yet the report also stated that London's capability in this area is currently limited by a range of issues, including the availability of fibre and the speeds delivered.
The new London Plan pinpoints the need for future work to accurately identify locations in the capital where current connectivity provisions are not suitable for the needs of the area.
It added that better digital connectivity with a focus on capability, affordability, security, resilience and the provision of appropriate electrical power supply should be promoted across the capital.
Furthermore, it called for the UK capital to meet the specific requirements of business clusters, such as a symmetrical-capable service with the same upload and download speeds.
One of the key challenges for London is development, and the report called for a flexible approach to development to support innovation and choice to ensure greater digital connectivity is offered in more locations.
It said that developers should engage early with a range of network operators to ensure that development proposals are designed to be capable of providing gigabit level of connectivity to all users, with mechanisms put in place to enable further future infrastructure upgrades.
It also called on development proposals to demonstrate mobile connectivity without detrimental impacts on the digital connectivity of neighbouring buildings.
Khan said that he will work with network operators, developers, councils and government to develop guidance and share good practice to increase awareness and capability among boroughs and developers of the effective provision of digital connectivity and to support the delivery of policy requirements.
He added that he will also help to identify spatial gaps in connectivity and overcome barriers to delivery to address this form of digital exclusion, in particular through his Connected London work.
The new commitment to a fully connected London comes on the heels of a project led by Khan, Vodafone, and Transport for London (TfL), which will see the London Underground network and public buildings form the basis of a major infrastructure upgrade from copper cables to full-fibre optics across the capital.
The scheme is aimed at making it possible for more of London to access gigabit-speed connectivity – starting with 118,000 properties in south London – by tackling "not spot" areas that suffer from poor connectivity. New fibre-optic cabling will be laid along TfL tunnels to create a "fibre backbone" across the city.
Read more on London and connectivity
Content Continues Below

Download this free guide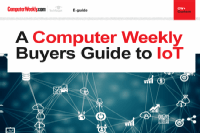 A Computer Weekly Buyers Guide to IoT
In these uncertain times, making solid predictions for the year ahead looks like a definition of a mug's game. While this has been the fuel for the fire for the boom in applications such as video conferencing as used to support remote working, the same really can be said for the internet of things (IoT). Download this E-Guide to find out what enterprises need to know about IoT.
Read more on Telecoms networks and broadband communications