Cisco connects Canary Wharf for Wi-Fi 6 'seamless' roaming
OpenRoaming will allow devices to connect automatically to Wi-Fi and seamlessly roam from one hotspot to another
The owner of one of the largest business centres in Europe, Canary Wharf Group, has teamed up with Cisco for what is said to be the world's first commercial trial deployment of OpenRoaming, combining mobile-like roaming through Wi-Fi 6 connectivity.
Canary Wharf comprises 17 million square feet of high-quality commercial office and retail space, hosting a working population of 120,000 people, with an additional 40,000 visitors a day on weekdays and 130,000 visitors over the weekend.
Designed to support the communications needs of the working and visiting population, it is claimed OpenRoaming will improve efficiencies and flexibility of onboarding Wi-Fi for more than 20,000 business people as well as retailers, bars, cafes, hotels and workspaces, such as The Office Group and Hoxton Hotels' new branch, NoCo, Grind and Pedlar, which will be located at Wood Wharf, a five million square feet regeneration project on the estate set to open in 2020.
OpenRoaming will allow devices to connect automatically to Wi-Fi and seamlessly roam from one hotspot to another without the user needing to log in. The joint initiative will make use of Cisco Wi-Fi 6 access points which are claimed to provide up to four times faster wireless speeds than previously, along with location-based analytics to allow clients to build services for customers.
Canary Wharf will also help landlords and tenants to understand how their real estate is being used, with data analytics to drive efficiency in workspace design using Cisco DNA Spaces, which enable location-based services, end-user engagement and wayfinding.
"For the real estate industry, next-generation connectivity is a critical utility," said George Lacobesco, executive chairman of the Canary Wharf Group. "Extending the value of our services well beyond office space, our customers are demanding access to world-class digital infrastructure and connectivity.
"Canary Wharf Group is committed to creating an estate-wide environment in which businesses can thrive. As well as refreshing our provision for commercial customers, we are continuously evolving our offering to residents and visitors, and initiatives such as this ensure that we are able to do so."
Scot Gardner, chief executive, Cisco UK and Ireland, added: "Canary Wharf Group is a pioneer in delivering the latest innovation to drive experiences for its businesses, shoppers and residents and we are proud to be a part of its vision for this iconic site. Canary Wharf Group is providing the foundation for businesses to benefit from the digital economy."
Content Continues Below

Download this free guide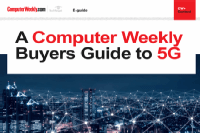 A Computer Weekly Buyers Guide to 5G
Despite the fears of many that rollouts of the next generation infrastructure would be delayed or just not be possible due mainly to the adverse economic conditions caused by Covid-19, the prospects are actually quite bright for the 5G industry in 2021. Download this EGuide to find out what enterprises need to know about 5G.
Read more on WAN performance and optimisation