everythingpossible - stock.adobe
Emerging markets' mobile financial services transactions set to surpass $1tn in by 2024
Mobile financial services transaction value will grow by 70% from 2019 to 2014 to total more than $1tn, driven by markets such as Latin America and Cico transactions
Mobile financial services (MFS) providers are being advised to expand their global agent networks to rapidly grow customer bases as a study from Juniper Research has revealed that the industry's transaction value will grow by 70% from 2019 to 2014 to total more than $1tn.
The Mobile financial services in emerging markets: monetisation models & market forecasts 2019-2024 research identified what Juniper called a range of untapped opportunities in Latin America for services such as microfinance, micro-loans, and money transfer, as a key driver of MFS growth over the next five years.
It forecasts that the total number of users accessing MFS in Latin America will grow 20% on average annually over the next five years. This would be twice as fast as markets such as Africa and the Middle East.
The study also forecasts that the number of MFS users in all emerging markets will reach 1.2 billion by 2024, growing from 890 million in 2019, with Africa and the Middle East accounting for more than 600 million users alone by 2024 owing to the high reliance on mobile devices for banking services.
Cash in, cash out (Cico) transactions are expected to be the largest driver of growth for the MFS market likely to obtain a value exceeding $590bn by 2024. The study predicts that fostering confidence among users of Cico transactions will lead to uptake of more comprehensive MFS products, such as micro-loans and micro-insurance, in the future.
In a call to action for the industry, Juniper urged MFS suppliers to take advantage of their existing experience to launch services in such underserved markets.
Read more about mobile finance

Download this free guide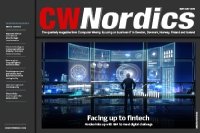 CW Nordics: Nordea links up with IBM to meet fintech challenge
Discover how IBM's €473m managed services contract with Nordea reflects an increasing trend among Nordic banks to outsource more of their IT to help meet the challenge of fintechs.