British Heart Foundation £10m data science centre set in train
The British Heart Foundation (BHF) and Health Data Research UK have set up a £10m data science centre
The British Heart Foundation (BHF) and Health Data Research UK have combined to establish a £10m data science centre.
The BHF is a well-known sight on the British high street, while Health Data Research UK is an institute for health data science funded by UK Research and Innovation, the Department of Health and Social Care in England and equivalents in Northern Ireland, Wales and Scotland, and some medical research charities.
The centre will not have a physical location, but will operate as a virtual team across the UK, according to a spokesperson from Health Data Research UK.
Cathie Sudlow, a stroke and neurology doctor in Edinburgh and currently chief scientist of UK Biobank, will lead the centre. UK Biobank is a company based in Stockport that studies the contributions of genetics and environment to disease.
Sudlow, now director of the BHF Data Science Centre, said, in a statement: "As a doctor who has had the privilege of caring for patients, as well as conducting and enabling research studies that rely on large-scale patient data, I'm delighted to be leading this new centre.
"Cardiovascular disease affects the lives of over seven million people in the UK and remains one of the largest causes of death and disability, despite major progress over the past two decades.
"This new centre provides the UK with an unprecedented opportunity to use data for research that will deliver strategies for prevention, innovative new therapies and medical breakthroughs that will ultimately improve the lives of people affected by cardiovascular disease."
Sudlow and her core team will be based in the Health Data Research UK head office in London.
The centre itself will not hold data, but it will work to "provide knowledge and expertise to help bona fide researchers from the NHS, academia and industry find, access, understand and connect the UK's cardiovascular big data that is distributed across national registries, NHS electronic medical records and other relevant datasets".
Health Data Research UK will provide what is described as a "secure health data infrastructure, which upholds the highest levels of information governance, protecting the privacy and security of patients' data".
Nilesh Samani, medical director of the BHF, said in support of the venture: "The UK is blessed with many world-class heart and circulatory disease researchers, spanning a wide range of disciplines.
"But, as we enter the era of digital medicine, there's a growing need to foster excellence in data science. At the BHF, we recognise the enormous potential of data science and want to create an environment where we can realise that potential.
"That's why we're working with the health research community, key stakeholders, professional bodies and UK data controllers to create the BHF Data Science Centre."
Andrew Morris, director of Health Data Research UK, said: "This centre has the opportunity to transform what we know about heart and cardiovascular disease. Using cutting-edge data science techniques, public engagement, and some of the best cardiovascular health data sets in the world, it will provide a solid foundation for some of the most formative research for decades to come."
Read more about data science in medical research
Content Continues Below

Download this free guide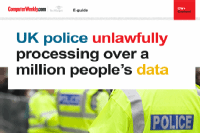 Police unlawfully process over a million people's data
The roll-out of Microsoft 365 to dozens of UK police forces may be unlawful, because many have failed to conduct data protection checks before deployment and hold no information on their contracts. Download this E-Guide to find out everything you need to know about the story.