Kagenmi - stock.adobe.com
Egypt aims to develop coding skills earlier in education system
An Egyptian government initiative will see thousands of teenagers trained to code in HTML, CSS and Python
Egypt's IT industry development organisation plans to get more secondary school students coding through a scheme which aims to train 5,000 15-year-olds over the next year.
To this end, the Technology Innovation and Entrepreneurship Center (TIEC) arm of Egypt's Information Technology Industry Development Agency (ITIDA) has launched the "Next Coders" programme.
Through the scheme, students will be trained in the basics of programming through HTML, CSS and Python.
This is part of the Egyptian government's Next Technology Leaders initiative, which aims to increase the information, communications and electronics technology skills of young people.
"The Next Coders programme aims to create a pool of talented youth capable of keeping up with modern developments, equipped with the skills required by the labour market, and qualified to work according to modern career paths in high-tech areas," said ITIDA.
The programme plans to train 1,200 students in its first phase, with a total of 5,000 students over the full year.
A cash prize of EGP1,000 (£45) will be given to each student after finishing the three-month course successfully.
The Ministry of Communications and Information Technology (MCIT) wants to integrate IT and programming fundamentals in the different educational stages.
Egypt already has 35 universities and 100 institutes producing 500,000 graduates a year, with 50,000 qualifying with IT-related qualifications. "The multilingual talent pool the country enjoys makes it a hub and an ideal location for serving offshore operations with over 20 languages across more than 100 countries," said ITIDA.
Content Continues Below

Download this free guide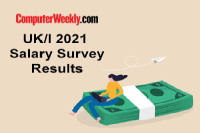 2021 UKI Salary Survey - Pandemic Infographic
We take a look at our 2021 Salary Survey results from over 300 respondents who work in the UKI IT sector. We will be breaking down which job functions get paid what, what areas of IT companies will be investing in in 2021, the current diversity landscape residing in the UK tech sector and how the pandemic has effected IT staff.