IT Priorities 2019: Security concerns top agenda for network buyers again
The ability to gain visibility into what is happening on enterprise networks has once again topped the agenda for network managers and buyers, according to the latest Computer Weekly/TechTarget IT Priorities survey
The advent of 5G mobile networks may have dominated the headlines in the first two months of 2019, but it is the intersection of the world of enterprise networking and the world of cyber security that seems to be driving enterprise network spend, according to the 2019 Computer Weekly/TechTarget IT Priorities survey, as buyers looked to lock down their networks in the face of an almost constant barrage of threats and malicious actors.
In the UK and in Europe, the Middle East and Africa (EMEA), network performance and network traffic and flow data emerged as key areas of the IT environment that buyers intended to monitor more closely this year, with 44% of UK buyers planning to monitor network performance and 35% network to monitor traffic and flow data, compared with 38% and 36% of EMEA buyers, respectively.
When it came to networking spend specifically, security concerns still loomed large, with monitoring and management tools high on the agenda in both the UK and EMEA.
In the UK, 27% of buyers said they were planning to spend on cloud-based network monitoring and management spend this year, and 26% were planning on-premise installations. IP address management and monitoring also featured in the plans of 20%.
In EMEA, on-premise monitoring and management spend figured in the plans of 27%, and 19% in the case of cloud-based services.
The EMEA statistics also included figures on mobility projects, where similar trends can be observed. Identity management, secure sign-on and multifactor authentication dominate mobility spending plans, with 39% planning to splash out, while 35% plan to spend on mobile device and asset management – both areas where security concerns figure highly.
The desire to know what is happening on the enterprise network reflects trends observed in the survey data going back at least two years. In 2018, network security spend was seen rising in the face of an overall decline in networking budgets, and in 2017, UK and EMEA buyers rushed to install virtual private networks (VPNs) in their businesses.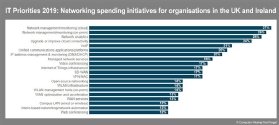 Beyond monitoring and management tools, UK buyers are also ramping up plans to refresh their cloud connectivity options this year, unsurprising in context, given that the survey data also showed cloud migration will be the top investment priority overall.
The UK will also see increased spending around essential communications tools in 2019, possibly reflecting standard refresh cycles. Notable areas of spend will include unified communications (UC) apps and platforms (20%) and video-conferencing (17%).
Other areas of networking technology generating interest among UK buyers included the internet of things (IoT), which now appears to be breaking through the fabled "trough of disillusionment", and software-defined wide area networks (SD-WAN), now established enough to be of interest to many – with 17% of buyers expressing an interest in these areas. Meanwhile, 14% planned to spend on open source networking and wireless in 2019.
Still struggling to generate much interest among UK buyers were areas such as intent-based networking (IBN) and network automation, which, though much hyped by sector leaders such as Cisco, featured in the plans of only 12% of buyers.
This would suggest that although demonstrating clear benefits around network provisioning and management, the idea of using machine learning to run a network is still not established enough to tempt enterprise buyers, who frequently cite concerns around the cultural change needed to go down this route.
Similar trends were also clear in the EMEA-wide data, with UC and IoT both well towards the top of mind for buyers, although SD-WAN slipped down the pecking order somewhat. EMEA buyers who were interested in the IoT said they would be spending mostly on incorporating IoT connectivity into existing products or services (60%) or building new customer-facing IoT products or services (44%).