alexlmx - Fotolia
No-deal Brexit would undermine digital economy, BCS warns
Skills, funding and the free flow of data are all at risk, says the chartered institute for IT
With prime minister Theresa May kicking off the next round of the Brexit debate in parliament, BCS, the chartered institute for IT, has warned that a no-deal Brexit would cause lasting damage to the future of science and innovation in the UK.
The BCS said a no-deal Brexit could also undermine the country's position as a leading digital economy. It warned that stopping the free movement of people, lack of European funding and data flow restrictions could damage the economy.
Bill Mitchell, BCS head of policy, said: "Without better preparation, a no-deal Brexit is likely to cause lasting damage in areas as far-ranging as filling tech vacancies to trust in the reliability of UK research organisations. BCS believes the UK government must act quickly to provide clarity for the science and innovation community in the short to medium term, while also doing what is necessary to deliver a clear vision for the UK's science and innovation community, whether that course involves maintaining the status quo for a period of time or charting a different course to make the much-needed changes in the IT sector that would ensure our continuation as a digital world leader."
The risk of a no-deal Brexit has already spooked a number of organisations to delay major IT projects. A survey by Opinium for business internet service provider Beaming found that 77% of larger organisations had put at least one IT project on hold pending the outcome of Brexit. Eleven of the 136 large businesses, with over 250 employees, surveyed, said they had delayed projects worth £1m or more pending the outcome of Brexit negotiations.
In a recent Computer Weekly article, distinguished Gartner vice-president Peter Aykens recommended that businesses establish a cross-functional Brexit planning working group comprising HR, IT, legal, risk management and supply chain teams.
As regards the flow of data, Annelie van Milink, a data privacy expert at PA Consulting, noted recently that by leaving the EU, the UK will not have an arrangement for data sharing with the EU. "It will also no longer be part of the territorial scope to which the GDPR [General Data Protection Regulation] applies," she said. "Instead, the UK will become a so-called third country."
Read more about Brexit preparations
Content Continues Below

Download this free guide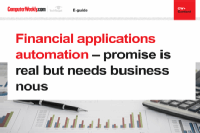 Financial applications automation – promise is real but needs business nous
The automation of the financial software that lies at the heart of any business & accountancy, budget management, general ledger, payroll, and so on & is a prize many organisations are eyeing up, with machine learning and robotic process automation close to mind. Find out everything you need to know by downloading this PDF E-Guide.
Read more on IT governance