wutzkoh - stock.adobe.com
Banking apps overtake online banking
Mobile apps are the most popular channel for banking as consumers swap online platforms for smartphone software
App-based software has usurped online platforms as the most used banking channels in the UK after a surge in use over the past 12 months.
A survey of more than 13,000 consumers carried out by financial services review firm Smart Money People revealed that mobile apps had become the UK's most popular banking channel at the expense of the online channel.
The 2018 survey found that 39% of respondents preferred apps to bank with. This compared to just over 30% in the same survey in 2017. The growth came from the online banking channel, which dropped from over 45% in 2017 to 38.6% last year.
Telephone banking and branch-based banking changed little over the year, with the former dropping by one percentage point to 11.4% in 2018 and branch banking preferred by 11% of respondents in 2018 compared with 12.2% in 2017.
According to the survey, a total of 77.6% of people preferred digital channels in 2018, compared with 75.4% in 2017.
Smart Money People said fintechs and challenger banks, some of which are app-only, have fuelled the take-up of banking apps. "For a long time, banking apps were not worth dealing with the hassle and perceived security risks," it said. "Most of them were awkward and ugly, with a clunky UI and limited functionality. They didn't do anything you couldn't do through a website, and they often did a lot less.
"But the rise of app-only challenger banks and other fintech apps is beginning to normalise app-based banking, reassuring app users that the systems are secure. These apps are offering genuine benefits, such as spending insights, budgeting tools and instant updates on your spending. Best of all, they make banking and managing our money easy."
Content Continues Below

Download this free guide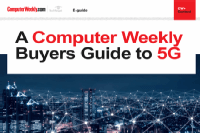 A Computer Weekly Buyers Guide to 5G
Despite the fears of many that rollouts of the next generation infrastructure would be delayed or just not be possible due mainly to the adverse economic conditions caused by Covid-19, the prospects are actually quite bright for the 5G industry in 2021. Download this EGuide to find out what enterprises need to know about 5G.
Read more on Mobile apps and software