Tomasz Zajda - stock.adobe.com
BA to sue CBRE over May Bank Holiday datacentre outage
Airline is taking legal action against the managed service provider tasked with overseeing the management of its datacentres during its outage in May 2017
British Airways is understood to be taking legal action against the managed services arm of US real estate consultancy CBRE over the datacentre outage that blighted the firm over the 2017 May Bank Holiday.
The outage, which is now known to have been caused by a power failure at one of the airline's two West London datacentres, resulted in BA flights being grounded at both Gatwick and Heathrow airports for two days, causing disruption to thousands of the firm's customers.
According to a report in the Mail on Sunday, the airline has appointed global law firm Linklaters to oversee the action against CBRE, which is known to have been responsible for managing the facilities at the time of the outage, and is intent on taking its case to the London High Court.
Reports in the wake of the outage suggested the problems were down to a defective uninterruptible power supply (UPS) system within the affected facility, which failed to respond as expected when power to the site was lost for a short time.
In a statement to Computer Weekly at the time, a BA spokesperson said an "uncontrolled" return of electricity to the site then resulted in a power surge that caused the IT systems underpinning its check-in, baggage, ticketing and contact systems to fail, brought about by "human error".
The company also confirmed an "exhaustive investigation" into the outage would be undertaken, but it is unclear at this time what the end result of that was.
Read more about the British Airways datacentre outage
In July 2017, BA's parent company, International Airlines Group (IAG), confirmed the incident cost the organisation around £58m in compensation fees and lost business, and blighted the travel plans of around 75,000 of its customers.
Computer Weekly contacted BA for a comment on this story, but was told it would be unable to respond until the "legal particulars" of the case are filed, and Linklaters said it is unable to discuss the case at this time. CBRE, meanwhile, declined to comment.

Download this free guide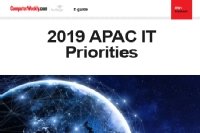 Make 2019 the year of great IT decisions
Before any investment, how about taking a look at your peers' IT priorities for 2019? Download the results of our survey right now to find out in which areas IT decision makers are planning to invest in the nearest future!