SMEs use fintech in fight against online giants, but fears remain
Online SMEs are turning to financial technology to help them make payment processes easy for customers as they try to compete with online giants
Small and medium-sized enterprises (SMEs) operating online are increasingly turning to financial technology (fintech) services to help them retain customers amid competition from online giants such as Amazon.
But these smaller companies are having to rush to provide seamless payments for customers, despite fears of cyber fraud hurting their businesses.
This presents a tough balancing act for smaller companies as the pace of tech advancement by large online companies accelerates.
A report from payment company Paysafe found that 79% of SMEs relied on fintech to compete, and 62% were worried they would lose customers if the payment verification process took too long.
Read more about the evolution of payments
This is not surprising, given the report also found that customers want the buying process to be as seamless as possible. Nearly half (47%) expressed interest in being able to reorder staple goods by pressing one button, and 22% had tried voice-activated payment systems.
But alongside the need to make payments easier, there are also security requirements, with 52% of online SMEs globally concerned that the move to frictionless payments would leave them more open to fraud. This concern is higher in the UK, where 66% think they are being more aggressively targeted by fraudsters now than they were a year ago.
In the UK, 62% of SMEs questioned were worried that a longer verification processes during the payment stage, which could potentially combat security risks, might mean losing customers. The same number admitted they did not know how to balance security with an acceptable customer experience.
Paysafe's report said: "On balance, security concerns continue to prevail for UK online merchants. This is despite merchants confirming plans to adopt new payment types with the understanding that a flexible roster of payment options is now a business imperative."
Content Continues Below

Download this free guide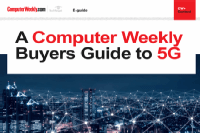 A Computer Weekly Buyers Guide to 5G
Despite the fears of many that rollouts of the next generation infrastructure would be delayed or just not be possible due mainly to the adverse economic conditions caused by Covid-19, the prospects are actually quite bright for the 5G industry in 2021. Download this EGuide to find out what enterprises need to know about 5G.