okolaa - Fotolia
CIO interview: Julie Dodd, director of digital transformation and communication, Parkinson's UK
In her combined role as director of digital transformation and communication, Julie Dodd oversees both IT and marketing at Parkinson's UK, making it easier to ensure collaboration
Multitasking comes with the territory when you're a digital leader. CIO research by recruiter Harvey Nash and consultancy KPMG reports that the top three priorities for digital leaders in 2018 are developing innovative products, delivering stable IT and enhancing customer experiences.

Download this free guide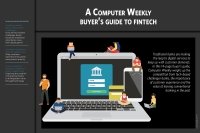 Computer Weekly's buyer's guide to fintech
In this 14 page buyer's guide we weigh up the competition from tech-based challenger banks, look at the importance of customer experience and discover the value of leaving conventional banking in the past.
For Julie Dodd, managing a broad range of requirements at Parkinson's UK is the prerequisite – in fact, this joined-up approach is part of her job specification.
As director of digital transformation and communication at the charity, Dodd oversees both IT and marketing functions. This combined role makes it easier for her to ensure there is a strong working relationship between the organisation's technology and marketing professionals – and her aim is to ensure that tight bond produces great results.
"It's very much about telling a story about what technology can do," says Dodd. "For us, that's about using technology to help our service delivery team spend more time with people and less time doing admin. It's about our research teams working to find a cure faster. It's about all of us as workers – whether that's fundraisers, campaigning teams or whoever – being able to work in more interesting ways, as well as more efficiently."
Dodd joined Parkinson's UK in August 2016. Formerly creative director at the BBC, she held a series of consultancy positions before joining the charity. She is now using her experience to drive technology-led change across the organisation.
"In the years I was doing consultancy, I became obsessed with how the charity sector needed to change and modernise," she says. "I conducted a big research project where I talked to 50 senior leaders in the sector and other executives in the big tech companies. That project confirmed to me that a lot of change was needed in the charity sector."
"The plan includes a focus on the digital products that we create, and that's really exciting"

Julie Dodd, Parkinson's UK
Dodd wrote The New Reality, a major study into how non-profit organisations can approach digital transformation. She used her research to work with charities on a consultancy basis. During this period, Dodd developed ground-breaking digital products and strategies for a range of organisations, including Macmillan Cancer Support, the Scout Association and Bupa.
She helped executives at other charitable organisations think about how they could use technology to deliver their transformation aims. It was during this period that she first met Steve Ford, chief executive of Parkinson's UK. Ford recognised that Dodd understood clearly the positive role digital change could play in the non-profit sector.
"He recognised technology could be used to deliver fantastic services, transform how organisations work and play a key role in clinical research," says Dodd. "We kept up our conversation afterwards and he subsequently got in touch to say that he was thinking about advertising for a role to lead technology-based transformation at Parkinson's UK. And that's how I ended up here."
Leading an organisational transformation
Dodd reports directly to the CEO. Alongside other senior directors, she forms part of the organisation's executive leadership team. Dodd has responsibility for maximising the potential of technology to transform the lives of people affected by Parkinson's.
"It's a great privilege to work in a charity," she says. "You have the ability to go to work and know that you're going to help make things better in the world. But it's particularly great to come and work in an organisation where there's a real appetite for change and a desire to do the best possible thing for people affected by Parkinson's."
But that's not to say the role is straightforward. Dodd recognises that she faces constraints in her efforts to meet her objectives, particularly when it comes to the budget for transformation when compared to a private enterprise.
"There's a lot of pressure to make sure we are putting as much donor money as possible into clinical research and offline services," she says. "Building change quickly in that kind of environment is difficult. So the pace is a challenge – but exciting things are already happening and the pace continues to quicken."
Creating a single version of the truth
One of the key projects Dodd has been involved in recently is the implementation of cloud-based data warehousing technology from Snowflake Computing. The technology was implemented in March after a formal procurement process.
Historically, data has been siloed in different departments within Parkinson's UK. Access to data across functions has been particularly difficult. To support a move away from separate databases, Parkinson's UK is using the Snowflake platform to create a single version of the truth and to sponsor joined-up, data-led working across the charity.
Dodd says cloud-based data warehousing brings two major benefits. First, Parkinson's UK can focus on how to share research insights with other institutions in real time. Second is data transparency – the single source of truth helps develop clarity around how the charity's funds are deployed, says Dodd.
The impact is already being felt. Dodd says the technology has allowed Parkinson's UK to build what she calls a "supporter journey". With a tighter grip on its data, the charity is using its insight to build a relationship with individuals, rather than treating donors like it's the first time they've met every time there is an interaction.
"Being automated and smooth through platforms, like the one we're using from Snowflake – which wasn't super-expensive, where we can use our existing SQL capabilities and where can build on top of the platform – means we can create efficiency faster," says Dodd. "But there's still a long way to go."
Improving decision-making processes
Dodd says the charity is supporting its investment in technology with a commensurate interest in training. Parkinson's UK has invested in data science training for staff members across all lines of business, including healthcare, HR and service delivery.
"It's quite a journey culturally for us to move to a place where things are done based on the insight you get once you manage and manipulate data effectively," she says. "We are investing in data training for some of our key members of staff from across the organisation, not just those in the IT department."
Dodd also points to transformation efforts around the charity's advice services. That process relies on using data to help direct the organisation's resources. She reckons technology can help Parkinson's UK double the number of people it reaches with its current staffing level.
A key application here includes case management software and the ability to track and trace trends in performance. The charity wants to analyse nationwide demand for its services in relation to both communication requests and seasonal patterns.
"We now talk an awful lot about our data maturity as an organisation and about making sure that our 400 staff know how to use information to make better decisions," says Dodd. "That stretches from our strategic priorities right down to a project-level basis, where our people use information to make better decisions."
Making the most of emerging technology
Developments have also taken place around user-facing services, and machine learning plays a part here.
The charity is developing a product that uses machine learning to understand the experiences of individuals with Parkinson's. The algorithm-based tool analyses data for people with similar experiences and recommends the right advice and support via email.
Dodd says the work around artificial intelligence (AI)-based advice is part of a broader movement. Parkinson's UK is eager to digitise its services, so that people can benefit from remote appointments more frequently.
"That means using robust video conferencing rather than our workers having to drive to where people live," she says. "Sometimes driving is the right answer – this isn't about replacing people with robots.
Read more charity sector CIO interviews
"But it is about making sure that, if you're fine with having a video conference appointment, let's do that. Because that can save two to three hours' worth of driving for one of our advisers. There are huge potential efficiency gains and there are many ways that technology can support our approach."
Dodd points to other key developments in emerging technology. She says the charity is proud of its partnership with BenevolentAI, a specialist in the development and application of AI. Parkinson's UK is using BenevolentAI's machine-learning platform to search for drugs that might offer a cure to the condition.
The platform analyses research, and drugs with life-changing potential are passed through to clinical trials more quickly. "Because we've been so focused on developing our data culture, BenevolentAI chose to work with us on this project rather than with other organisations," says Dodd.
Building a long-term platform for positive change
In terms of other achievements since joining the charity, Dodd highlights internal change and people behaviour. She says there is now a strong desire across the organisation for people to operate through leaner, more agile ways of working.
"People want to be part of an organisation that doesn't maintain classical hierarchical structures – and they're really keen to think about how they can apply technology as part of their jobs," she says. "It's an ongoing process. There's lots of support you must give to people – but that's been a really big shift for us."
Further change will take place over the next 18 to 24 months. Dodd says the charity has a 14-point plan, under which it will continue to analyse and hone its approach to both digital transformation and the overall cultural shift across the organisation.
"The plan includes a focus on the digital products that we create, and that's really exciting," she says. "There's also a bit about our data infrastructure, and that's hard work but really important. And there's a lot about internal cultural change and people skills.
"The big win for us would be that, at the point that we're able to scale our services – so, say we can get to double the number of people with our existing capacity – then that's when digital transformation really makes a difference for us and the people we serve."
Read more on IT innovation, research and development