Paul Fleet - Fotolia
Police Scotland sets out 10-year digital plan
Scottish Police Authority has approved Police Scotland's 10-year digital transformation plan, which aims to bring the country's police forces into the 21st century and requires £244m in capital funding and £54m in reform funding
Police Scotland is set to transform its national infrastructure and capabilities through a 10-year transformation plan.
The outline business case for the plan, which was approved by the Scottish Police Authority, will require £244m in capital funding and £54m in reform funding – a one off cost which can't be capitalised, over the next nine years.
According to the business case, however, it'll be worth the cost, with £357m expected in benefits over the same time period. It added that simply maintaining the existing outdated IT systems currently costs £90m.
The new plan aims to bring Scottish police forces into the 21st century, giving them the "basic technology tools – the digital, data and ICT capability – to allow us to function at that basic level".
"Police Scotland currently work around our 20th century technology gaps and capability to provide an excellent service to the people of Scotland. This isn't a sustainable model, it degrades the service we deliver to the public and involves us taking additional risk in delivering those services," the outline business case said.
It added that all the technology requirements outlined in the business case are "tools and capability that are already in place and in use, in some cases for many years, across English and Welsh police forces".
Police Scotland has almost 200 key systems, including five different ways of managing a missing persons case, and huge data quality issues.
The business case added that very few officers have mobile phones to capture data, and even if they did, there is no platform to take "data in a digital form and store this".
Phased deployment
The plan to transform the entire system will be deployed in three stages, with the first phase focusing on standardising the core operating technology, the second introducing new technologies and the third optimising the technology.
The programme will begin with a phased mobile device deployment, beginning with 10,000 mobile devices to police officers, enabling them to share and access information easier and quicker.
Police Scotland will also roll out body-worn video cameras, implement a single enterprise resource planning (ERP) system and refresh the command and control system so it can handle digital communication. It will also implement integration platforms, which will reduce duplication in entering information, and allow the police to share information across forces and with its partners.
The police will also upgrade its core network to increase bandwidth and connectivity to "handle the ever-increasing demands of 4G/5G usage and digital evidence".
Susan Deacon, chair of the Scottish Police Authority, said the plans will "drive much needed strategic transformation and change which will ensure that policing in Scotland is fit for purpose and fit for the future".
"This is a robust piece of work, supported by a significant increase in capacity and capability within Police Scotland and by external expert advice and scrutiny."
Lessons learned
Deacon added that the police has learned lessons from its previous work on large-scale IT programmes.
According to a lessons learned report from Audit Scotland last year, the Scottish public sector has spent £4bn on ICT in the past five years, £856m of which was spent on IT procurement in 2015/16.
One of the key projects that was highlighted in the report was the Scottish Police's i6 programme, which aimed to deliver an integrated IT system to police forces across the country.
In 2013, Accenture won the £40m contract to join up more than 100 legacy systems and deliver a new operational policing system as part of the Scottish Police Authority's wider IT strategy.
However, in 2016, Accenture, the SPA and Police Scotland mutually agreed to terminate the contract after a review found it would be impossible to deliver the system on time and on budget.
"We have learnt the lessons from the i6 failure and we have also learnt from others," the business case said.
Read more about police IT
Content Continues Below

Download this free guide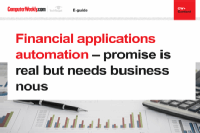 Financial applications automation – promise is real but needs business nous
The automation of the financial software that lies at the heart of any business & accountancy, budget management, general ledger, payroll, and so on & is a prize many organisations are eyeing up, with machine learning and robotic process automation close to mind. Find out everything you need to know by downloading this PDF E-Guide.
Read more on IT innovation, research and development