Tomasz Zajda - stock.adobe.com
Virgin Atlantic signs five-year IT infrastructure delivery and management deal with Exponential-e
Transatlantic airline claims teaming up with Exponential-e will provide its IT team with the "technology backbone" needed to roll out improvements to its customer-facing services
Flight operator Virgin Atlantic has signed a five-year IT infrastructure delivery and management deal with managed cloud provider Exponential-e.
Under the terms of the agreement, Exponential-e will be responsible for managing the transatlantic airline's networking, management, governance and cloud deployments, with Virgin claiming the deal will help provide a "uniform level of service to staff and customers across the globe".
According to Virgin Atlantic, the idea is that Exponential-e will provide the "technological backbone" for the firm's services, meaning its own in-house IT team can focus on improving its customer-facing services and offerings.
In recent years, similar efforts on this front have seen the airline emerge as the first European operator to provide Wi-Fi access to passengers during transatlantic flights across its entire aircraft fleet, while taking steps to improve the mobile check-in experience for customers.
Jules Gascoigne, vice-president of technology services and security at Virgin Atlantic, said: "Exponential-e has brought interesting ideas and a touch of personal service to our mix of [technology] partners – I am looking forward to working with them in future."
The deal represents an extension of Exponential-e's dealing with the Virgin brand, having worked with its Virgin Holidays division since 2012.
"In an industry where there is little to differentiate one airline from the next other than price, Virgin's ethos has been to pioneer new services and connect with consumers on a human level," said Exponential-e CEO Lee Wade.
Read more about aviation technology
"A forward-looking approach to tech and a willingness to break the mould has enabled it to create an aviation empire. We're delighted to be working with them as they integrate these two businesses and continue to strive to break the mould."
Mukesh Bavisi, managing director at Exponential-e, said: "Our partnership with Virgin Atlantic is committed to providing technical and operational excellence over the next five years by delivering the right services, using the right technologies and extending our successful partnership with Virgin Holidays to Virgin Atlantic."
Content Continues Below

Download this free guide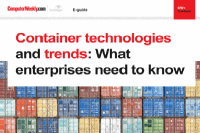 Container technologies and trends: What enterprises need to know
In this e-guide, we take a look at how and why enterprises are tapping into containers to bolster the business agility of their IT infrastructure and application estates, and some of the latest thinking about how best to utilise container technologies.
Read more on Infrastructure-as-a-Service (IaaS)