Patryk Kosmider - stock.adobe.co
Liam Maxwell to swap government for AWS
Government tech adviser Liam Maxwell is understood to be leaving government for a role at Amazon Web Services
The government's national technology adviser, Liam Maxwell, is leaving his role in Whitehall to take up a position at Amazon Web Services (AWS), Computer Weekly understands.
Maxwell – who was previously the Government Digital Service's (GDS) first chief technology officer (CTO) – took up the role as national technology adviser in 2016, but is now leaving government for a role at the cloud giant.
Whitehall sources told Computer Weekly that Maxwell has been considering moving on for a while, and Computer Weekly understands he has now accepted an offer from AWS.
However, as a senior civil servant, Maxwell is subject to the government's business appointment rules, meaning he would have had to apply to the Advisory Committee on Business Appointments (ACOBA) to get clearance for taking up the new role.
Under the rules, Maxwell will be subject to a lobbying ban for a period of time, where he will not be able to communicate with the government in relation to the company's or his own interests.
For very senior civil servants, the ban lasts for two years, but it's unclear how long Maxwell will be subject to the ban.
The news, which was first revealed by the Register, means Maxwell –who joined the government's IT team in June 2011, when he joined the Cabinet Office as an IT advisor – is leaving behind a fruitful career in the public sector.
In his role as national technology advisor, Maxwell linked the cross-government drive to improve government technology with the Department for Culture, Media and Sport's (DCMS) work to grow the digital sector.
At GDS, Maxwell overhauled the governance of technology, shutting down the 20-plus boards previously responsible for aspects of IT strategy. Under his watch, the Cabinet Office introduced mandates for the use of open standards – including a controversial feud with Microsoft over document formats.
He was also responsible for introducing the spending controls mechanism for IT, designed to prevent huge contracts with suppliers by breaking projects down into smaller parts, and avoiding the need for the sort of long-term outsourcing mega-deals that have often led to costly IT failures.
Prior to joining the civil service, Maxwell was a local authority councillor responsible for IT policy at the Royal Borough of Windsor and Maidenhead.
It is unclear exactly what Maxwell's job at AWS will entail, but it's understood to be a senior role in public sector procurement.
AWS has significantly increased its UK presence in the past few years since opening up its London datacentre in 2016.
It is one of the main suppliers on the government's G-Cloud framework, with a whopping £31.5m spend through the framework since it began, most of it after the opening of its new datacentre.
On the back of this, the firm has also risen up the rankings to become one of the top three performing infrastructure as a service (IaaS) providers listed on the framework.
Computer Weekly contacted the Cabinet Office, DCMS and AWS to confirm Maxwell's new appointment, but the departments declined to comment, and AWS has yet to reply at the time of writing.
Content Continues Below

Download this free guide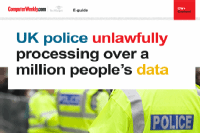 Police unlawfully process over a million people's data
The roll-out of Microsoft 365 to dozens of UK police forces may be unlawful, because many have failed to conduct data protection checks before deployment and hold no information on their contracts. Download this E-Guide to find out everything you need to know about the story.