Unified comms bugbears may be easily solved with AI
The concept of unified communications is now so wide-ranging that it is ripe for disruption – or improvement – by artificial intelligence, argues analyst Zeus Kerravala
The unified communications (UC) sector is set to benefit hugely from the advent of artificial intelligence (AI), according to independent network analyst Zeus Kerravala, because the sheer breadth of the world of UC means AI has multiple potential applications.
In a keynote presentation at UC Expo 2018 in London, Kerravala said he had come close to losing interest in UC a few years ago, describing it as "boring". But more recently, he said, the sector has diversified rapidly, partly driven by the advent of Microsoft in the space, but also due to the growth in software-based as-a-service technology, as well as the cloud.
We have also witnessed the widening of the term UC to include more than just voice over IP (VoIP), video conferencing and instant messaging – technology such as interactive whiteboards, team spaces and document management now all sit under the UC umbrella as well.
With this in mind, said Kerravala, when one considers the rising number of UC tools and the data and content they produce, people's ability to interpret that data becomes very limited.
"Workers today are getting crushed under the weight of the data and UC tools they have, and are sometimes less effective because of this," he said. "There are many more ways to communicate and we are using all of them.
"The intersection of UC and AI is all about helping people do their jobs better by letting machines interpret data and analyse information faster."
Also, despite this recent innovation, the same general set of problems persists in UC, mostly relating to system usability. These include – but are not limited to – uncertainty over who is in a meeting and who should have been invited, not knowing how to join a meeting, share documents or content, or make video features work properly, said Kerravala.
Future AI-enhanced UC systems could greatly improve the dynamics of meetings by adding features such as: more intuitive call recording or transcription, perhaps based on keywords; facial recognition and automated identification to aid meeting set-up; or features such as intelligent speaker tracking.
Looking further ahead, more advanced AI features could offer users recommendations on who should join what team meeting, proactively find and load useful content, or even generate minutes.
Although the overall picture for AI in UC looks rosy, Kerravala did sound a note of caution around mass-market voice assistants, such as Alexa and Siri, which he characterised as not yet good enough for enterprise applications.
"Voice assistants are becoming incredibly popular but not all are created equal, and this is something to think about," he said.
Most consumer-grade voice assistants are integrated with what Kerravala referred to as "shallow AI", which is good at providing broad information such as football scores or weather forecasts, but falls down when asked to do anything complex.
"In most business settings, or in a hospital, for example, you don't care about the weather, you care about patient status and terminology, and that's hard for Alexa to understand," he said. "More narrow, deep AI systems with vertical expertise is the solution, but it is a hard problem to solve."
Content Continues Below

Download this free guide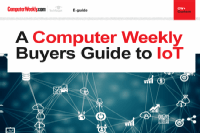 A Computer Weekly Buyers Guide to IoT
In these uncertain times, making solid predictions for the year ahead looks like a definition of a mug's game. While this has been the fuel for the fire for the boom in applications such as video conferencing as used to support remote working, the same really can be said for the internet of things (IoT). Download this E-Guide to find out what enterprises need to know about IoT.