Fotolia
IT executives think businesses are slow at adopting digital transformation
Digital transformation may be impeded by the slow speed at which businesses are ready to adopt new, digitally empowered ways of working
Most IT decision-makers think the business takes too long to make decisions on digital transformation, a new study by Dimensional Research for Alfresco has found.
The study, Digital transformation: disrupt or be disrupted?, was based on a survey of more than 300 executives across the UK and US. It reported that 70% of IT stakeholders believe their business execs are taking too long to make the digital transformation leap.
Only 38% of business executives said the technology team was holding them back.
Half the companies surveyed think they are likely to disrupt the industries they operate in, while 50% feel they are behind and will be disrupted by the competition in 2018.
By industry, more telcos (65%) and technology (65%) companies predicted that they will be disruptors, while 17% of IT stakeholders working for government and non-profit organisations are worried that they will be disrupted.
Generally, the larger companies that took part in the survey said they are more confident of being a disrupter. Almost 60% of IT stakeholders in companies with more than 5,000 employees say they are more likely to disrupt, compared with 48% of those in companies with 1,000 to 5,000 employees and 39% of those with fewer than 1,000 employees.
Of those businesses that thought they would be disrupted, 61% said lack of budget and people resource investment were the biggest factors, followed by lack of vision among their business leaders (48%) and no willingness for their company culture to embrace digital transformation (47%).
Dimensional Research said the survey highlighted the human part of the transformation equation, and simply implementing technology is not enough to make a business digitally transformed. According to the research, 78% of digital transformation decision-makers recognise that people changes are the most difficult.
Read more about digital transformation
As Computer Weekly has reported previously, any major change in an organisation tends to follow the existing communications structure, which may limit its effectiveness.
Dimensional Research's report recommended that a transformation must begin with employees, their work habits and ability to collaborate, as well as the overall corporate culture.
Alfresco founder and CTO John Newton said: "Today's corporate leaders must realise that digital disruption is happening, and it's happening right now. Those who don't have a digital strategy in place and IT modernisation initiatives under way are not likely to survive."
Content Continues Below

Download this free guide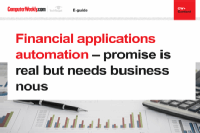 Financial applications automation – promise is real but needs business nous
The automation of the financial software that lies at the heart of any business & accountancy, budget management, general ledger, payroll, and so on & is a prize many organisations are eyeing up, with machine learning and robotic process automation close to mind. Find out everything you need to know by downloading this PDF E-Guide.