Monkey Business - Fotolia
Ofcom to enforce new rules on broadband speed disclosure
Telecoms regulator Ofcom is to impose new measures on broadband providers, forcing them to provide better information about speeds to consumers
Consumers will be able to receive better and more realistic information about broadband service speeds before they commit to a contract under new measures that have now been formalised by telecoms regulator Ofcom.
Henceforth, internet service providers (ISPs) will have to provide potential customers with a minimum guaranteed broadband speed at the point of sale.
Should the speed drop below that level, the provider will have a month to improve its performance before it must allow the customer to walk away without penalty. Currently, ISPs have an unlimited amount of time to change things for the better.
Alongside this, Ofcom will now also enforce the consumer's right to exit a contract to landline and TV packages bought alongside broadband, so they will be able to make a clean break if their broadband service doesn't come up to scratch.
As an extra protection, ISPs must now also provide a more realistic peak-time speed assessment to reflect the fact that broadband is typically slower during the evenings, or at lunchtimes in the case of businesses.
"Broadband customers must know what they're signing up to," said Ofcom consumer group director Lindsey Fussell. "These protections will close the gap between the broadband speeds people are sold, and what they actually receive. And to give people extra confidence, we are making it easier to walk away – without penalty – if companies fail to deliver."
Ofcom said it recognised that such changes would require ISPs to make changes to their customer service systems, develop and implement new speed tests, and retrain customer-facing staff, therefore there will be a 12-month grace period before the new measures come into force on 1 March 2019.
"Consumers have told us that they feel confused about the broadband speeds they are likely to get and the service they pay for, so further steps to help inform customers and empower them to walk away without facing a penalty are welcome," added Which? managing director of home products and services, Alex Neill.
"Providers signed up to the code need to move quickly to implement these changes, so that broadband customers are given a realistic expectation of the speed they should experience before they commit to a contract," said Neill.
Read more about broadband
Richard Neudegg, head of regulation at comparison service uSwitch.com, said he hoped the tougher measures would "light a fire" under ISPs to be more proactive, but cautioned that it wouldn't solve many deep-seated frustrations that consumers have with their broadband services.
"Despite superfast broadband now being available to 95% of the country, only 57% of customers believe they can actually access it – more needs to be done to help households move to a better service," said Neudegg.
"While it's encouraging to see there will be improvements in the speeds estimates providers use, burying this information in a providers' sales journey isn't enough.
"What we really need is for this information to be opened up so that consumers can compare different provider speeds side-by-side to make an informed decision about the service that best suits them."
Content Continues Below

Download this free guide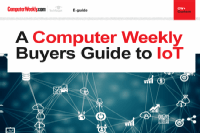 A Computer Weekly Buyers Guide to IoT
In these uncertain times, making solid predictions for the year ahead looks like a definition of a mug's game. While this has been the fuel for the fire for the boom in applications such as video conferencing as used to support remote working, the same really can be said for the internet of things (IoT). Download this E-Guide to find out what enterprises need to know about IoT.
Read more on Telecoms networks and broadband communications