Businesses hit digital roadblock due to paper processes
A survey of business and IT leaders has found that paper-based processes are creating inefficiencies
A survey of business and IT leaders has found that paper-based processes are creating inefficiencies.
Despite the growth of computerisation in recent decades, businesses still use paper in key processes.
The Coleman Parkes study – based on interviews with 735 senior business and IT decision makers – found that, in 75% of organisations, a fifth of data is still held in hard copy.
Half of organisations still hold five to 10 years of data in paper form. But only 13% said they were confident accessing data that was between 11 and 20 years old.
More articles on removing paper from business processes
Electronic health record issues exist on paper
NFU Mutual automates paper processes with Tibco
When asked about the importance of digitising their organisations' data, 38% said it would enable them to improve forecasting, while 32% said it would enable them to make better decisions.
David Mills, chief operating officer of Ricoh, which commissioned the study, said: "Digitally mature organisations will outperform non digital companies by 24. There is a massive push to digitise."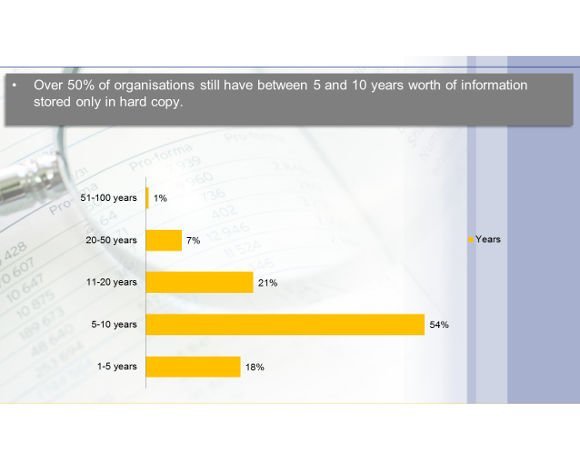 The research also found that 6 out 10 executives were not ready for digitisation of business processes. "Most people print out invoices and most are not prepared to make the change to [electronic invoicing]," Mills added.
Quocirca analyst Bob Tarzey described the challenge business faced with the extent of paper in organisations as "a digital roadblock".
"There are three types of documents in business: eg archived documents, paper documents and electronic documents like PDF files," said Tarzey. The information contained in these documents is unstructured, which makes it hard to find.
"We should not lose track of this unstructured data," he said.