Strategic investments drive modest growth in IT spending
The relatively stable economic climate has resulted in modest IT investment, according to Gartner's latest quarterly spending forecast
The relatively stable economic climate has resulted in modest growth in IT investment, according to Gartner's latest quarterly spending forecast.
Richard Gordon, a research vice-president at Gartner, said businesses are better prepared, in terms of managing budgets, than they were immediately after the banking crisis in 2008/9.
While there is still uncertainty in Europe over the economy, which has eroded business investment, organisations appear to be more comfortable with the economy than they were when the panic set in during 2008/9.
"Now we have an understanding of the problem, in terms of sovereign debt, and an understanding of what has to be done. But it will take a long time," said Gordon.
For IT expenditure, this means there is low growth in most areas.
He noted that device spending is still growing fast, and is expected to reach $718bn in 2013, an increase of 7.9%.
"Devices spending took us by surprise," said Gordon. "We are seeing continued spending, driven by high-end smartphones and tablets."
Outside of device expenditure, other areas of IT saw modest growth driven by strategic IT investment, according to Gordon.
"It's not about everyone chucking money at IT. There is a shift to cloud computing, social media, mobile technology and growth in information," he added.
Gartner categorises cloud computing, social media, mobility and big data as a "nexus of forces" which can transform the way businesses operate.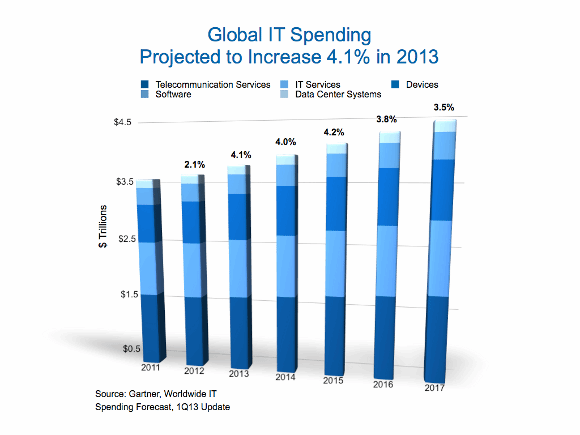 IT spending forecast
These four areas represent essential spending that is strategically important to business. "There is a strategic imperative for enterprises to get ahead of the curve," said Gordon.
Gartner predicted datacentre systems spending will grow by 3.7% in 2013, down 0.7% from its previous forecast. This reduction is largely due to cuts to the near-term forecast for spending on external storage and the enterprise in Europe.
There is also continued hesitation among buyers in IT outsourcing contracts, according to Gartner. This is fostering hyper-competition and cost pressure in mature IT outsourcing segments and reallocation of budget away from new projects in consulting and implementation, Gartner noted.