Iceland prepares to lure Silicon Valley IT giants to build datacentres
Despite having the facilities to build a green datacentre, big firms such as Apple, Facebook and Google have not opted for a base in Iceland
Iceland has all the right elements to run sustainable green datacentres – year-round free air cooling, renewable energy resources, it meets data compliance regulations and has strong connectivity to mainland Europe and the US.
But still, big companies such as Facebook, Google, Apple, Yahoo and Microsoft have stopped short of setting up their datacentres in Iceland, opting instead for other Nordic countries such as Sweden and Finland.
"Iceland is one of the top three contenders, alongside Sweden and Switzerland, for many Silicon Valley IT giants, but it is the misconception about Iceland that is stopping them from making the final move," said Thordur Hilmarsson, director of Invest in Iceland.
"We just need one of the big Silicon Valley names to make the first move – that would make all the difference," said Bjarni Bjarnason, chief executive of Energy Reykjavik, a publicly-owned local geothermal energy resource company.
In its bid to lure the "big brands", the company is looking to set up a 70-hectare "datacentre park" just outside Reykjavik, with access to renewable energy resources and free air cooling in a bid to attract energy-conscious brands to set up their facilities in the country. The site will house up to 10 large datacentres, said Bjarnason.
Currently, only 26% of Iceland's GDP comes from foreign direct investment, a majority of which comprises biotech companies, heavy industries, aluminium mining companies, and even film companies. But datacentre investment from big IT giants has, so far, been minimal.
More on green datacentres
Cheap energy and green credentials lure business to Iceland datacentres
Datacentre group collaborates with EC over green measures
Frequent hardware upgrades help optimise datacentre cooling and efficiency
Driving datacentre efficiency to meet future demand
Icelandic datacentres safe from natural disasters and terrorist attacks
Iceland is home to co-location and datacentre service providers such as Verne Global and Thor (managed by Advania Datacentre), but does not boast big names such as Apple or Facebook.
One of the misconceptions is that Iceland is not economically stable, after the local banks collapsed during the 2008 recession, said Einar Hansen Tommason, project manager at Invest in Iceland. "But that is not true. Yes, our banks collapsed and our currency lost its value, but things have started picking up and our unemployment rate is just 6% – one of the lowest in Europe."
Another misconception is about the occurrence of natural disasters in Iceland. "People think there are always earthquakes, volcanic eruptions and natural disasters in Iceland that are not conducive to a datacentre environment," said Kristinn Haflidason, another project manager at Invest in Iceland.
But the country's independent report ranked Iceland 6.5 on a scale of 7, where 7 was considered as the least risky location for datacentres. "We have strict risk assessment, and it shows that strategically located datacentres are safe from natural disasters and terrorism attacks," he said.
Take the volcanic ash cloud of Eyjafjallajökull, for instance, which erupted in the southern tip of Iceland in 2010. "We were back to business on the second day, and the south-easterly winds pushed the ash to Europe, which had to cancel flights for weeks," said Bjarnason.
Verne Global and Thor had datacentre facilities in Iceland at that time, but neither experienced any downtime or lack of power supply, said Hilmarsson. "This goes to show that IT facilities here are robust and built to withstand disruptions," he said.
Renewable energy sources keep datacentre running costs low
Another reason companies such as Facebook and Google are investing in Sweden is because of the cheaper cost of setting up a datacentre there than in Iceland.
As Sweden is part of the European Union, it gets subsidies to build datacentres, which it can pass on to its customers, said Hilmarsson. Iceland is not part of the EU, but it is part of the European Economic Area (EEA). This means it gets no subsidies, but it can help businesses remain compliant with data protection regulations as data remains within the EEA.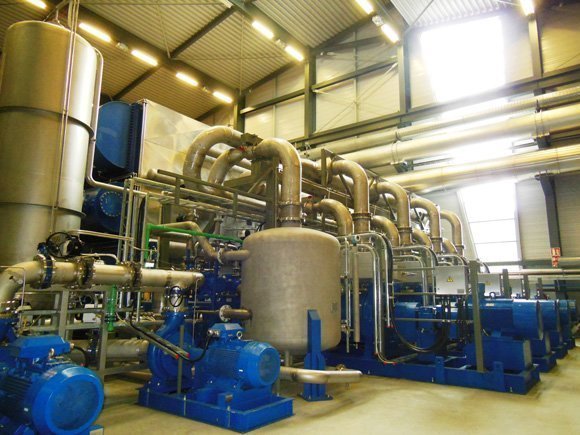 Iceland geothermal power plant in Keflavik
In addition, Iceland offers a combination of hydro and geothermal energy, which can keep datacentre running costs down in the long run, he said.
Year-round free air cooling offers further cost savings through reduced datacentre power consumption.
A Pricewaterhouse Coopers comparative study of long-term datacentres found that the operating or running expenditure of a 10,000ft2 datacentre in Iceland over 15 years is $130m cheaper than running it in the UK, according to Invest in Iceland.
In addition to Nordic countries, Iceland faces competition from the UK too, where most local brands and financial services companies prefer to have their datacentre infrastructure.
"But UK CTOs are server-huggers – they want their IT facilities in their backyard or within the M25," said Hilmarsson.
Tomasson said IT leaders in the UK do not understand the cost benefits of moving their datacentres to Iceland. "But if you tell a CFO that the savings of moving a datacentre from the UK to Iceland is $130m, he will question why the company is not making the move. We are targeting the CFOs, not the CTOs, because they understand the cost proposition better," he said.
Download additional resources on environmental factors in the datacentre
Building Iceland's reputation as a datacentre haven
Iceland is working to alter the perception about its financial instability and about the risks associated with natural disasters, said Bjarnason.
Things are slowly changing, with existing investors such as Verne looking to expand their Icelandic datacentres.
The country is currently holding talks with one unnamed Silicon Valley giant and another big brand from Germany.
"The [Silicon Valley] company will be paying a second visit to do a site report next month, and we are hopeful of a positive outcome," said Hilmarsson.
As the benefits of free air cooling and sustainable energy become more commonly known, datacentre investors will come to Iceland, but right now the country needs one of the big names to make the first move so others follow suit, said Bjarnason.