Nvidia warns of PC market weakness
A combination of seasonal factors and a pause before the arrival of Windows 10 are going to hit the numbers for Nvidia in the second quarter
The ripples from the weakness in the PC market continue to spread across the industry and touch vendors that rely on that product segment for revenue with graphic specialist Nvidia indicating that its revenues have been hit.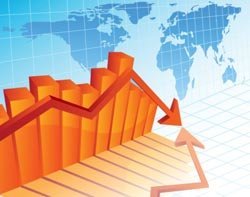 The firm has issued guidance for its second quarter revenue, which at $1.01bn is down from the $1.1bn that had been expected, and pointed the finger of blame at weak PC sales.
Not only is the firm wrestling with the exchange rate issues that are causing problems for all US vendors selling into Europe but it has identified a lull in the PC market that looks set to last through the summer.
"European currency weakness is affecting overall demand. Also, as widely reported by OEMs, a combination of seasonality and a lull ahead of Windows 10 launch are impacting the PC market," said Colette Kress, CFO and executive vice president at Nvidia, in a conference call with analysts.
Kress was speaking on the announcement of Nvidia's first quarter numbers which showed that it is well positioned to take advantage of Windows 10's arrival in its gaming and virtual reality business.
Nvidia also revealed that it is winding down its Icera modem operation in the second quarter, which could incur restructuring charges of around $125m, if it is not able to sell off the business.
The Q1 numbers showed a 4% increase in revenue to $1.15bn, with its gaming, high performance computing, cloud and automative products all contributing to that year-on-year improvement.
Nvidia is not alone in highlighting the reverse in fortunes in the PC market and in March Intel issued a warning that its Q1 numbers would be hit by the slowdown in the corporate desktop market and highlighted a reduced impact from users moving off Windows XP.
That was then followed by forecasts from IDC that it expected global shipments of PCs to decline by 4.9% to 293.1m over 2015, which is worse than the 3.3% that it had originally had forecast. The analyst house also revealed that the PC market ended last year 0.8% down.