EE steps in to save 359 Phones 4U jobs
EE, Vodafone and Dixons Carphone have now all agreed job-saving deals to with Phones 4U, which went into administration last week.
Mobile service provider EE has agreed to buy 58 stores from Phones 4U, which went in administration last week.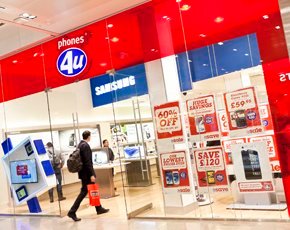 The move will save 359 of the 5,600 jobs put at risk as a result of the retailer's rapid demise. The news comes just days after Vodafone agreed to take over 140 of the stricken retailer's outlets, safeguarding almost 887 jobs.
Phones 4U turned to administrators last week, after both Vodafone and EE pulled out of their contracts, rendering the reseller's business model unviable.
Phones 4U founder John Caudwell told the BBC's Today Programme that the action of the networks was an 'unprecedented assassination'. Caudwell, who sold the company for £1.5bn back in 2006, believes that the mobile network providers colluded to eliminate Phones 4U from the high street, although he made it clear that he has no evidence to support the theory.
Both EE and Vodafone virulently denied the claim.
Dixons Carphone has also come to the rescue by offering to hire the 800 Phones 4U staff currently employed in Currys and PC World stores. Phones 4U had 160 shops inside the Dixon's owned retail outlets; however a merger between Dixons and Carphone Warehouse meant that the contract was due to come to an as Carphone Warehouse was a direct competitor.
Despite the rapid action of administrators PwC to secure as many jobs as possible, thousands still look set to be lost. It was confirmed last week that 628 employees at the Newcastle-under-Lyme headquarters would lose their jobs.