Ellison calls it time in CEO role at Oracle
After 35 years at the helm Larry Ellison has decided to step down from his position as CEO of Oracle to move into the CTO position
For more than three and a half decades the answer to the question of who runs Oracle has always been the same with Larry Ellison at the helm but that is no longer the case after the billionaire opted to resign.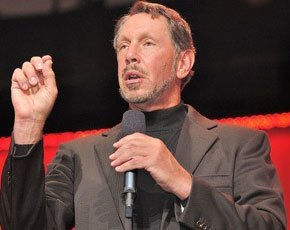 In a move that ironically mirrors the policy of leadership that was followed for a long time by his arch rival SAP the CEO position at Oracle will now be shared by current co-presidents Safra Catz and Mark Hurd.
Ellison, who is now 70, is a larger than life character who could liven up any investor call or partner conference and was prepared to take shots at the competition as he led the charge to keep Oracle at the top in the database and business analytics world.
With a personal fortune estimated by Forbes to be worth $51.4bn he is also well known for his love of sailing and has regularly attended the America's Cup and spent millions supporting the Oracle team.
For Hurd it is a return to the top table as a CEO, albeit it a joint one, just four years after he had to exit from that position at Hewlett-Packard under a cloud connected to an expenses scandal.
Ellison is not stepping back fully from the firm and will now become Oracle's chief technology officer and remains the vendor's largest shareholder with a 25% stake.
"Safra and Mark will now report to the Oracle Board rather than to me," said Ellison. "All the other reporting relationships will remain unchanged. The three of us have been working well together for the last several years, and we plan to continue working together for the foreseeable future. Keeping this management team in place has always been a top priority of mine."
The announcement of the change in CEO came as the firm delivered first quarter fiscal 2015 results that missed expectations as the move by customers towards the cloud hit license revenues.