Microsoft edges closer to choosing next CEO
Microsoft is reported to be getting closer to whittling down the potential candidates to replace Steve Ballmer
Microsoft appears to be nearing the final stages of its search for a CEO to replace outgoing Steve Ballmer with the software giant expected to whittle down its candidates shortlist at a board meeting being held later today.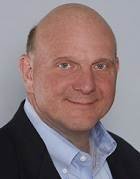 Over the weekend reports emerged suggesting that the software giant could be working to a timetable to be in a position to unveil a fresh face in the CEO's chair as early as next month.
The two front runners remain Nokia's boss Stephen Elop and the head of Ford Alan Mulally, who is seen as someone with solid management experience even if he lacks a background in the computer industry.
At the same time as reports of a narrowing of the CEO search emerged Steve Ballmer also cropped up in the Wall Street Journal making comments over his decision to leave, indicating that he realised that he had become part of the problem for Microsoft.
Ballmer is quoted as admitting that he was seen as being part of an old era at the firm and accepted the need for change: "At the end of the day, we need to break a pattern...Face it: I'm a pattern."
Read more on Microsoft Windows Services