Ballmer plans to stay on Microsoft board
Steve Ballmer is standing for re-election to the Microsoft board indicating that even after he steps down as CEO he intends to be involved with the firm.
Steve Ballmer might well be standing down as CEO of Microsoft, to strains of I had the time of my life, but he intends having an influence over the future of the software firm after seeking relection to the Board.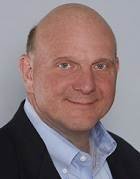 Ballmer is not alone in wanting to keep some involvement with the firm he has served and headed for thirteen years with his predecessor in the CEO's chair Bill Gates also looking to remain on the Board.
Shareholders get the chance to give them the nod next month at a meeting on the 19 November, but it will not be greeted with universal approval with some wire reports from the US suggesting that some had wanted a complete clean sweep at the firm as a fresh CEO comes on board.
The firm revealed that both wanted to stay on the board in an SEC filing that also indicated that Gates remains the largest individual shareholder with 4.5% of the company and Ballmer holds a 4% stake in the software firm.
The hunt for Ballmer's successor continues with a mixture of runners and riders that are both external and internal candidates being muted as potential successors to take the firm forward into a new era.