Audio-visual market remaining optimistic
Whisper it, but the audio-visual market seems a safe place to be. Compared with other technology markets dependent on tightening corporate budgets, the AV market, with its traditional roots in education and the public sector, looks like a relatively good place to trade.

Download this free guide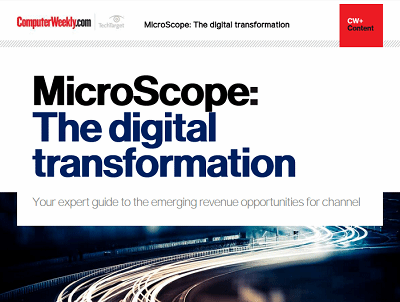 Emerging revenue opportunities for the channel with digital transformation
Digital transformation is a phrase that means many things to many people but for it to have any real relevance to the channel then it needs to mean a chance to make money. This guide will share some of the recent developments in the channel and the latest thoughts about the issue.



Whisper it, but the audio-visual market seems a safe place to be. Compared with other technology markets dependent on tightening corporate budgets, the AV market, with its traditional roots in education and the public sector, looks like a relatively good place to trade. The corporate sector is looking stronger, buoyed by growth in digital signage hardware and its associated market for control systems and content creation.

"The year ahead will be tough," predicts Jon Sidwick, director of
Maverick Presentation Products. "We are seeing an increase in the low-end price points for projectors, following sterling's slide against the dollar. However, we feel very positive regarding the demand through the channel from our wide customer base. AV is becoming a 'must have' element of business, and this will drive demand."

Benq expects projector prices to rise by 8% to 12%, according to sales director Steve Chu.

Stability in education
The educational market remains the bedrock for the AV industry, driven by government spending targeted on schools. The British Educational Suppliers Association (BESA) predicts that schools will raise their budgets in 2009/10 by 8.4% and 5.4% respectively. A typical primary school ICT budget for 2009 will be £15,850; a secondary school ICT budget will be £68,000.

Resellers are good at selling into education, and that is where the business is, says Colin Messenger, senior analyst at market research company Futuresource. "The third quarter [2008] in the UK education market was huge – 23,000 interactive whiteboards (IWBs) were sold, twice as many as the second quarter," he says.

As well as new IWB sales, Messenger says a strong replacement market for IWBs is developing, as many boards sold into schools will soon be 10 years old. Interactive voting systems are also selling well in both education and the corporate sector, with 244,000 sold in 2008, 31% up on 2007 sales figures of 186,000.

Graham Wylie, group product and marketing director for Steljes, points out that one of the advantages of the education market is that funding is consistent. Once the annual budget is set, the money tends to be spent, unlike the corporate sector where budgets are liable to be reviewed and downgraded on a quarterly basis.

Wylie thinks teachers will want to buy the "integrated classroom", packed with visualisers (for showing a magnified image of a physical object) and interactive voting systems, complete with the control systems for linking them together and the security systems for keeping them in the classroom.

In the spring, Steljes will launch the Smart Table, a horizontal, interactive table that allows children to manipulate educational software with their fingers, working as a group.

Exciting corporate growth
"We have had good solid performance in the education market, but our most exciting growth in AV is in the corporate sector," says Wylie. He cites a telecoms company and a reseller working on a £1m project linking IWBs in different offices using Smart Meeting Pro, a collaboration tool aimed at the corporate sector.

"Meeting Pro is easy to learn. You can walk into a presentation room, touch the interactive board and it will start working. It does not have to be installed on a laptop or configured with wire connections. Instead of a £10,000 refurbishment of a meeting room, or a £50,000 boardroom refresh, there is a chance to sell a set of collaboration tools for the enterprise in the £1m sales bracket," he says.

Darren Lewitt, divisional director at Midwich, is cautiously optimistic about AV sales in the coming year. He points to a huge growth in replacement projector lamp sales, following the company's launch of its Which Lamps division last January. Sales of projector lamps are up 400%, and there has been equally strong interest in the company's specialist and niche AV products. Along with other distributors, Midwich expects WXGA projector sales to hold up well in 2009. The products are a natural fit for an increasing number of laptops that have a 16:10 or 16:9 aspect ratio.

AV suppliers hope to counter a market in which their product falls in value very quickly by generating an installation and service market. Sanyo's product marketing manager Gareth Day acknowledges that margins for educational and corporate market projects have fallen in the past year, but argues that products such as the £3,600 Sanyo Quadrive projector will boost the installation market.

Benq's Royce Lye, UK product marketing manager, agrees. "Any reseller selling a £199 projector and trying to do volume will have a tough time. But if you sell a more expensive projector there are several services associated with it. It can take up to 10 days to prepare a large hall or auditorium for installation. A site survey may uncover the need for specialist hanging devices for the projector and screen, as well as extra cabling," he says.

"Companies that sell products based around customers' needs are thriving. Those selling tin are fighting a price-based battle, which is always tough," says Sidwick.

Read more on Sales and Customer Management