Five minute interview: David Spate, Overland Storage
MicroScope puts its questions to David Spate, sales and marketing director, EMEA Disk Solutions, at Overland Storage (EMEA) What is the best/worst advice you have received and from whom?

Download this free guide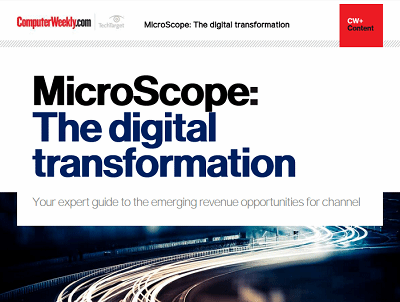 Emerging revenue opportunities for the channel with digital transformation
Digital transformation is a phrase that means many things to many people but for it to have any real relevance to the channel then it needs to mean a chance to make money. This guide will share some of the recent developments in the channel and the latest thoughts about the issue.

By submitting your personal information, you agree that TechTarget and its partners may contact you regarding relevant content, products and special offers.

You also agree that your personal information may be transferred and processed in the United States, and that you have read and agree to the Terms of Use and the Privacy Policy.



MicroScope puts its questions to David Spate, sales and marketing director, EMEA Disk Solutions, at Overland Storage (EMEA)

What is the best/worst advice you have received and from whom?
The best advice I ever received was from Paul Griffin, an ex-boss and hard drive supremo at Seagate and IBM, who advised me to take up golf. It took me 12 years to act on his advice, but I'm glad I finally did. When I'm having a bad day on the course, I think the worst advice I ever got was from Paul Griffin, who advised me to take up golf…

Tell us something most people do not know about you
I own two dressage horses and have ridden up to Grand Prix level. I was also the mystery man in Katie Price's marriage break-up (not really).

What temptation can you not resist?
Sushi and Lavazza coffee.

What is your most elusive goal?
A six-pack.

Where is the one place you would like to visit before you die?
I am very lucky to have travelled extensively and been to most of the places that were on my wish list. However, I have never been to South America and would love to play polo in Argentina.

What do you just have to do before you die?
Win Euromillions on a quadruple rollover.

Which bit of technology would you want with you if you were stranded on a desert island?
A satellite phone has got to be number one.

What was your first car and how does it compare with what you drive now?
It was a Renault 5. It broke down every week. It was a great lesson that you get what you pay for, and spending a bit more up front saves you a lot in the long run. That's why I've driven German cars ever since, and am now loyal to the Mercedes brand.

Who helped you get to where you are today?
My wife. That is the safe answer…

What do you believe in most?
Hard work pays off. It has been proven time and time again.

Do you have any pets?
Two dogs (Angus and Dudley), two horses (Max and Louis), and consequently a large overdraft.

Who would you least like to be stuck in a lift with?
Gordon Brown. I don't suffer fools.

Why are you good at your job?
I am constantly aware that if you look after your channel and enable it to make money, it will pay dividends. I have followed that principle and so far it's worked.

If you were shipwrecked, who would you like to have with you and why?
My new iPhone 3GS. You can while away hours playing with it.

If you could be any animal for a day, what would you be?
One of our horses or dogs – they get ridiculously spoilt.

Do you prefer cities or the countryside?
Countryside: spending time with horses is a great way to get away from the IT business and relax.

Describe your perfect night out
Sushi with a nice bottle of wine and good company.

Describe your perfect holiday
A luxury villa with pool and a seat at the front of the plane.


---
Share your thoughts

To take part in the five minute interview, e-mail georgina.tucker@rbi.co.uk for a list of questions. You can respond to all questions, or a select few. Interviews should be between 500 words and 1,000 words.

Read more on Sales and Customer Management