Five minute interview: Chrissie Tarbitt, Compellent
29 September 2009 MicroScope puts its questions to Chrissie Tarbitt, EMEA channel development manager at Compel lent. What is the best/worst advice you have received and from whom? The best advice I was given was from my Dad. His motto in life was to always "go for it".

Download this free guide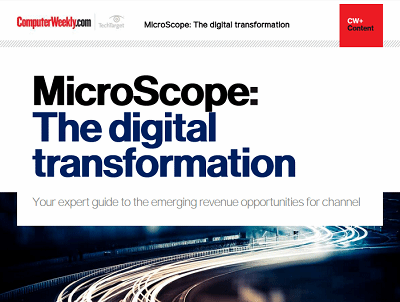 Emerging revenue opportunities for the channel with digital transformation
Digital transformation is a phrase that means many things to many people but for it to have any real relevance to the channel then it needs to mean a chance to make money. This guide will share some of the recent developments in the channel and the latest thoughts about the issue.

By submitting your personal information, you agree that TechTarget and its partners may contact you regarding relevant content, products and special offers.

You also agree that your personal information may be transferred and processed in the United States, and that you have read and agree to the Terms of Use and the Privacy Policy.

29 September 2009



MicroScope puts its questions to Chrissie Tarbitt, EMEA channel development manager at Compellent

What is the best/worst advice you have received and from whom?
The best advice I was given was from my Dad. His motto in life was to always "go for it". I try to emulate that attitude and it has served me pretty well so far.

Describe yourself in one sentence
Passionate and energetic about life - whether it's my family, my job or sporting pursuits.

What is the best book you have ever read?
The Sea, The Sea by Iris Murdoch.

Tell us something most people do not know about you
I love sailing. I was overall winner of the 1976 Youth Series held in Brunei.

Where is the one place you would like to visit before you die?
The Himalayas. Last year I climbed Mount Kinabalu in North Borneo and was bitten by the trekking bug - I cannot wait to do it again.

What temptation can you not resist?
The pure indulgence of Hotel Chocolat Kir Royale truffles (with a chilled glass of the real stuff coming a close second).

What is your most elusive goal?
To own a yacht - but as I currently live in the Midlands, I'm a bit far from the sea, so it wouldn't be very practical.

What do you just have to do before you die?
Visit Gracelands with my best mate. We are dyed-in-the-wool Elvis fans - and not ashamed to admit it.

Which bit of technology would you want with you if you were stranded on a desert island?
It would have to be my iPod, which has all my radio podcasts downloaded onto it which enable me to catch up on my favourite programmes when I am travelling around Europe visiting Compellent's partners.

Who helped you get to where you are today?
My dad. He was always my greatest inspiration.

What was your first car and how does it compare with what you drive now?
My first car was a brand new Citroen AX - it was my first company car in 1986 while working in London. A nippy 1.4 town car compared with my more sedate automatic 5 series BMW.

Why are you good at your job?
I am a team player and love working with innovative people and solutions. But most importantly I love a challenge and thrive in a fast growth environment, working with the channel to achieve all of my personal and professional goals.

What do you believe in most?
Loyalty and honesty are the best attributes anyone can have.

Do you have any pets? If so, what are they and what are their names?
No, but I did have lots of hamsters and guinea pigs as a kid. But it is just too sad when they die. I couldn't go through that pain again.

If you were shipwrecked, who would you like to have with you and why?
As a keen sailor I would be very upset if I got myself shipwrecked. However, Ray Mears, the great outdoor survival specialist, would prove to be a very safe pair of hands as I would have to find a way of getting off the desert island.

Do you prefer cities or the countryside?
Sorry to sit on the fence on this one, but it would have to be both. My idyll is a penthouse in Paris and a country house in rural Dorset - perfect.

Describe your perfect night out
Going for a meal with family and friends.

Sum up the IT channel in one sentence
The channel always manages to adapt to, and adopt, new technologies - as we have seen with virtualisation and tiered storage. When times get tough, the channel has an opportunity to be innovative and take advantage of the end user's key focus - making every pound count.


---
Share your thoughts

To take part in the five minute interview, e-mail georgina.tucker@rbi.co.uk for a list of questions. You can respond to all questions, or a select few. Interviews should be at least 500 words in length.
Read more on Sales and Customer Management